Pune is a beautiful city nestled in the Deccan Plateau, made popular by the Peshwas or Prime Ministers of Maratha Empire, who ruled from here. The city has numerous forts and palaces to satisfy your culture seeking side, and plenty of nightclubs and bars for all party-holics, an abundance of lakes and gardens for you to replenish and unplug and a lot more.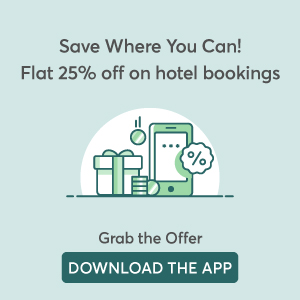 The beauty of the city enthrals tourists from across the country, and the perfect climate puts everyone at ease. So, if you are visiting this beautiful city, don't forget to check out this list of things to do in Pune.
A Range of Experiences – Top 12 Things to do in Pune
1. Trekking at Sinhagad Fort
The Sinhagad Fort offers great architectural visuals to the tourists. This was the fort where the great ruler Shivaji ruled, and it has great historical significance attached to it. People seeking adventure can also go trekking in the area and click pictures of the breathtaking landscape.
2. Explore Lavasa In All Its Glory
Lavasa is a beautifully planned private city which is based on the style and design of Portofino, an Italian town. This should definitely be on your list of best things to do in Pune. You can take a bike on rent and head over to this place. It transports you to a different world effortlessly.
3. Experience Nightlife in Koregaon Park
Koregaon is the hub of Pune's nightlife. Koregaon Park houses numerous clubs and pubs which are sure to satiate your party seeking senses. Dance into the night with a buzzing crowd and a comprehensive menu. Koregaon is a given in the list of things to do in Pune at night.
4. Travel Down MG Road
For all your shopping experiences, you need to visit MG road, which has some of the best branded-showrooms jostling for space with local shops. Here, you will get some exquisite handicrafts, food stalls, and lots of entertainment options.
5. Pay Homage to the Gods at Dagadusheth temple
Dagadusheth Temple is one of the richest temples in Pune and has a big and beautiful idol of Lord Ganesha as the main deity. There is a lovely vegetable market around the temple which is also a must-visit.
6. Satisfy Your Creative Buds with Pagdandi Books Chai Café
If you are an art lover or an avid book reader, then this place is ideal for you. You can check out the various paintings, photographs, art forms, listen to lively music, have discussions and debates with people, check out books, or just enjoy some hot tea here.
7. Early Morning Visit to Parvati Hillock
This is one place which should be visited in the early morning. Once at Parvati hillock, you will be treated to an amazingly spectacular view of the entire skyline of Pune. Get mesmerized by the beautiful views, which are a tonic for the eyes and the soul.
8. Get Closer to Nature with Pu La Deshpande Garden
This is a beautiful Japanese Garden where you can find some inner peace. Not just that, you can also spend some special moments with your loved ones, clicking photographs and enjoying the serenity.
9. Head over to the Lakes for Some Peace and Quiet
Pune is beautifully and strategically located in the midst of 3 beautiful lakes. Heading over to the lakes should be top things to do in Pune. Khadakswala Lake with a dam, provides the main supply of the water to the city. The Panshet Lake, Pashan Lake and Mulshi Lake, are popular picnic spots. One can catch sight of migratory birds and other flora over here.
10. Visit the nearby Hill Stations
The mesmerising beauty of nearby hill stations (like Panchgani, Khandala, Mahabaleshwar, Amboli, Matheran, etc.) is sure to take your breath away. Located within a few hours from the city the hill stations are well connected with good roads. This is one of the best things to do in Pune if you are looking to relax and rejuvenate.
11. Head to Imagica Theme Park If You're an Adventure Lover
Spend some quality family time at the Imagica theme park. For non-Pune residents, there are stay-over options as well. With many ride options to choose from, there is something for every age group. Apart from rides, there is a water park and a snow park as well. On selected dates, you can get massive discounts; there are some early bird ticket offers as well. You can also choose home-to-home travel packages.
12. Enjoy Different Cuisines
With a wide array of cafes, resto-bars and restaurants to choose from, your taste buds will never feel disappointed. Go to Amruteshwar to grab some rice flakes or yummy Poha. This is an ideal spot for those who like to munch early mornings. Sky Garage is a perfect place for people, who love Hookah. The place is open throughout the day and night as well.
Apart from all these places, there are various other things that you can do in Pune. Catering to people of all ages, the city brings forth an amalgamation of peace and serenity, loud music and nightlife, delectable cuisines and adventure parks, and a lot more. Just enjoy the city and don't forget to check out its rich heritage and culture. Share your feedback and comments with us.