With mesmerizing vistas, mild temperatures, a topography dotted with strawberry and mulberry farms and a healthy dash of old world charm, Mahabaleshwar already ticks most boxes for a relaxing holiday. However, what tips the scales in Mahabaleshwar's favor is the arms-stretch distance of a mere 243 kilometers from Mumbai.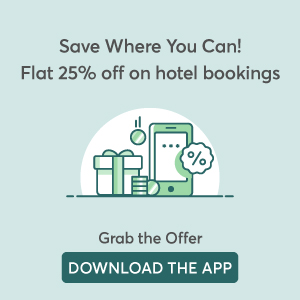 Situated at an altitude of 1353 meters in the Western Ghats in Maharashtra, Mahabaleshwar is among the top weekend getaways from Mumbai. If you are here for a well-deserved break, Mahabaleshwar will not disappoint, with its elevated viewing points, the colorful boats dotting the Venna Lake, the historic Pratapgarh fort built by Shivaji in the year 1656 and the Panch Ganga temple where five rivers meet. Here are the top tourist places to visit in Mahabaleshwar.
Quick Tips
Best time to visit: Any time of the year, as Mahabaleshwar's high altitude provides a moderate climate. However, the best time would be from June to October, when the lush greenery is at its most arresting.
Trip recommendations: While Mahabaleshwar is a perfect weekend destination, Panchgani (20 kilometers away) should be on your itinerary if you have an extra day or two on hand.
Transport: As with most tourist places, transport can be a bit of a problem. It's best to get here by a car you can use over the course of your trip. There are government buses, but they mostly only ferry you to the main tourist attractions. If you don't have a car, you could hire a taxi, but they can be expensive. For the more adventurous, horses are available. It's quite fun and relaxing under the shady pathways of Mahabaleshwar.
While there are around 25 things to do in Mahabaleshwar, many of them offer similar views (of mountains/valley). We've cut them down to 15 places of interest that are actually worth the trip:
Religious & Historical Places to Visit in Mahabaleshwar
1. Mahabaleshwar Temple
At a distance of 6 kilometers from Mahabaleshwar Bus Stand, Mahabaleshwar Temple is an ancient Hindu temple situated in the Old Mahabaleshwar. Chandarao More commissioned its construction way back in the 16th century, and it is in the Hemadant architectural style of South India. It is a major attraction, for both devotees of Shiva as well as tourists interested in history and culture.
2. Krishna Devi Temple
At a distance of just 300 meters from Mahabaleshwar Temple and 6 kilometers from Mahabaleshwar Bus Stand, Krishna Devi Temple is supposed to be the source of the Krishna River. Perched on a hill, with columns and ceilings carved out of stone, it was built by the ruler of Ratnagiri in 1888. An often-overlooked spot, it offers a marvellous view of the Krishna valley and the river beneath.
3. Panchganga Temple
At a distance of 6 kilometers from Mahabaleshwar Bus Stand, in the vicinity of the Mahabaleshwar Temple is the Panchganga Temple. Built at the meeting point of five rivers (the Krishna, Venna, Savitri, Koyna, and Gayatri), it is believed that all five rivers come out from the mouth of a statue of a cow in this temple. The Yadava ruler of Devgiri, Raja Singhandeo, built this temple way back in the 13th century. Today, it is a major religious site thronged by devotees all year round.
4. Morarji Castle
Gandhi once visited Mahabaleshwar and here is where he chose to take rest. Ironically, though, it is a reflection of British architecture. Aside from the structure itself, the drive there is impressive, as the approach road is dotted with several other colonial structures.
5. Mount Malcolm
Named after the well-known British general, Sir John Malcolm, Mount Malcolm isn't mounted at all. Instead, it is one of the oldest buildings in Mahabaleshwar. As the name indicates, it is a remnant of the British era, showcasing immense attention to detail.
6. Pratapgarh Fort
At a distance of 20 kilometers from Mahabaleshwar is a large hill fort located in Satara district of Maharashtra. The fort lies at an altitude of 1080 meters and is built on a spur that overlooks the road between the villages of Par and Kinesvar. This is where the Battle of Pratapgarh was fought, by Shivaji and Afzal Khan in 1659. School children from around the area often visit this historical site. The fort comprises several buildings. At the entrance, you have the tall towers and strongholds from where the soldiers began their defense. As a tourist, therefore, you'll need to walk around this to get inside. Once you get in, though, you'll be rewarded, with rest houses and good food.
The Best Spots for Sightseeing in Mahabaleshwar
7. Venna Lake
At a distance of 3 kilometers from Mahabaleshwar Bus Stand, Venna Lake is a man-made lake constructed in 1842 by Sri Appa Saheb Maharaja, who was the ruler of Satara. Lush greenery everywhere, Venna Lake is fed by perennial springs and is quite large, at around 28 acres, and a periphery of 8 kilometres. On the banks of Venna Lake lies Pratap Singh Garden. Boating rides are also available. Up to seven are allowed on a boat at a time for 15 minutes. A good way to pass the time on a lazy evening.
8. Chinaman's Waterfall
To the south of Koyna Valley is Chinaman's Waterfall. It's around 2.5 kilometres from Mahabaleshwar Bus Stand and, during the monsoon and for some months after, water drops from 500 feet into the Koyna valley. You could either go straight here or get great pictures of it from a distance, at Babbington point (if you're interested in an easy trek, you could also walk up 2 kilometres). You're probably wondering, though, how it got its name. Well, it's simple — for a long time, the nearby gardens were looked after by Chinese immigrants.
9. Kate's Point
Kate's Point comprises three viewing points. Located around 7 kilometres from the main bus stand, the Kate's Point area, named after British governor Sir John Malcolm's daughter, consists of Kate's Point, Echo Point and Needle Hole Point. At an altitude of 1290m, it gives you a view of Dhom dam, Kamalgadh, Pandavgadh and Mandardeo. From Needle Hole Point, you can see a natural rock formation with a hole in between. Echo Point, as the name makes evident, is where you can yell out your name (or whatever else) and hear it right back. What could be more fun!?
10. Lingmala Waterfall
Lingmala Waterfall is at an altitude of 1278 meters and is formed by the Venna River. Its large waterfall, active around six months of the year, has a drop of 500 feet. Then there's also a mini waterfall, around a 30-minute walk away, where you could swim (it's dangerous to do so at the large waterfall). The main waterfall is too strong for any swimming, but the views it offers are worth the 2.5-kilometre trek. There is an entry fee of Rs. 15 per person.
11. Wilson Point
At a distance of 2 kilometers from Mahabaleshwar Bus Stand, Wilson Point is the highest point in Mahabaleshwar, at an altitude of 1439 meters. Wilson Point is the only point where one can experience breathtaking vistas at dawn and dusk, both. The point was originally called Sindola Hill, but renamed after Sir Leslie Wilson, the Governor of Bombay province from 1923 to 1926.
12. Bombay Point
At a distance of 3 kilometers from Mahabaleshwar Bus Stand, Sunset Point is popularly also known as Bombay Point. The oldest point of all in Mahabaleshwar, it gets its name from being on the old Bombay Road. An ideal spot for a picnic, with a large open space, gazebos and a bandstand.
13. Lodwick Point
At a distance of 4 kilometers from Mahabaleshwar Bus Stand, Lodwick Point lies at an elevation of 4087 feet above sea level. It was previously known as Sydney Point, but renamed after General Lodwick, the first British officer to climb the hill in the 1800s. It offers unmatched views of the Pratapgad Fort.
14. Elephant's Head Point
At the extreme end of the mountain range and beyond Lodwick Point lies Elephant's Head Point. The front portion of the hill, which protrudes out, looks like an elephant's head. Hence the name. The point offers an all-around view of the area. You would, however, need to walk almost 1.5 kilometres from the car park or take a pony ride from the parking area to get here. In Mahabaleshwar's fine weather, though, it's a breeze.
15. Connaught Peak
The second-highest peak in Mahabaleshwar, and just 5 kilometers from Mahabaleshwar Bus Stand or 3.5 kilometers from Old Mahabaleshwar, Connaught Peak has an elevation of 1400 meters above sea level. First known as Mount Olympia (at least by the British), they changed the name, to Connaught Peak, after the Duke of Connaught visited in 1880. It offers a beautiful view of the Venna Lake and Krishna Valley. You could also observe the Kamalgadh, Rajgarh and Torana in the north and Ajinkyatara in the south. If you enjoy trekking, the terrain here is fun and easy, a great way to earn your holiday meals.
If a break from the mundane is what you seek, then the charming hill station of Mahabaleshwar with its meandering bridle paths and winding roads, stunning panoramic views, ancient temples and historic forts, is the perfect antidote for your weary soul. We hope you enjoy as many of the tourist spots in Mahabaleshwar as you possibly can. Do share your experience in the comments below.