The very mention of Jaipur evokes images of brave kings and princes in armour and elegant queens and princesses in all their regal finery. The city, which dates back to the early 18th century, is named for its founder Jai Singh II. Vidyadhar Bhattacharya is credited with overseeing the layout of the city which is in accordance with the principles of Vastu Shastra.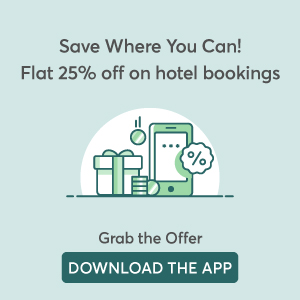 Did you know that the whole of Jaipur was painted pink during the rule of Sawai Man Singh to welcome Prince Edward of Wales? Pink is the colour associated with hospitality, and since then the colour has been retained, and it is popularly known as 'The Pink City'. The city is rich in history, culture, and tradition, and has a lot of attractions and experiences for every visitor.
18 Best Places to Visit in Jaipur
1. Explore the Royal Residence at City Palace
Located in the Old City, this sprawling complex comprises of various buildings and was originally built in the 18th century. Part of it is now a museum, but most of it still remains a royal residence.
2. The Unconquerable Jaigarh Fort
Connected to the Amer Fort through subterranean passages, Jaigarh Fort is home to the world's largest cannon on wheels. The fort also holds the distinction of never having been conquered in battle and is among the best places to visit in Jaipur.
3. Historic Nahargarh Fort
This fort stands atop the Aravalli Hills overlooking the Pink City and has been featured in quite a few Bollywood movies. It was intended as a holiday retreat for the royals and has been witness to quite a few historic events. This is one fort you must include on your list of places to see in Jaipur.
4. A Fairytale of a Palace – Jal Mahal
Sitting serenely in the midst of Man Sagar Lake, the Jal Mahal makes for a great photo op. A gentle boat ride is the only way to get to this ethereal palace. Jal Mahal ranks among the most famous places in Jaipur.
5. Wonder at the Exhibits at Albert Hall Museum
The State Museum of Rajasthan is a reminder of the Indo-Saracenic style of architecture. It is home to a vast collection of paintings, carpets, ivory, stone, metal sculptures, and crystal art.
6. Worship at Govind Devji Temple
Situated within the City Palace complex, this temple dedicated to Lord Krishna. The idol of the deity was brought here from Vrindavan by Raja Sawai Jai Singh II, the founder of the Pink City.
7. Go Wild at Jaipur Zoo
This zoo opened its gates to the public in 1877 and is home to over 500 animals. There are a museum and a ghariyal breeding farm inside the complex.
8. Stroll Through Kanak Vrindavan
This garden is said to be more than 275 years old and gets its name because it is said to resemble Lord Krishna's Vrindavan. The stunning garden with its many fountains and verdant greenery has featured in many Bollywood movies.
9. Relax at Jaldhara
An eco initiative by the Jaipur Development Authority, Jaldhara is a 40 ft fountain amidst landscaped surroundings. Shaded seating areas and artificial animals make it a comfortable place to rest in.
10. Gaze Upon the Stars at Birla Planetarium
This is the perfect place to gaze at a starry sky and learn a bit about the wonders of the Milky Way. Birla Planetarium appeals to the young and the old alike. At the time of its inauguration in 1963, it was the biggest of its kind in Asia.
11. It's Water, Water, Everywhere at Galta Temple!
This pre-historic Hindu Temple is one of the lesser known Jaipur tourist places. With plenty of natural freshwater springs, this temple looks more like a traditional 'haveli' or residence rather than a place of worship. It is also home to many monkeys, so be sure to safeguard your belongings from these pesky pickpockets!
12. Raj Mandir- Modernity meets Tradition
Enjoy a refreshing change from run-of-the-mill multiplexes by visiting the iconic Raj Mandir in Jaipur. This opulent cinema with its unique architectural design from the Art Moderne school was opened to the public in 1976.
13. Visit Sanganer- The Home of Artisans
The village of Sanganer is located around 16 km south of Jaipur city. It is best known as the place where the hand-printed Sanganeri fabric is produced.
It is also home to a ruined palace and some Jain temples with spectacular examples of carvings. Sanganer is a hub of factories and workshops where traditional artisans work painstakingly to bring you beautiful patterns.
14. Be Amazed at The Palace of the Winds
The Hawa Mahal, without a doubt, figures at the top of every tourist's list of places to visit in Jaipur. Built by Maharaja Sawai Singh, this stunning example of architecture resembles a five-storey honeycombed hive.
15. A Treat Awaits Astronomy Buffs at Jantar Mantar
The Jantar Mantar, a UNESCO World Heritage Site, is yet another of the famous tourist places in Jaipur. The geometric devices here can tell time, predict eclipses, track the stars, and the Earth's movement around the sun.
16. Silence Reigns at Royal Gaitor
The stately cenotaphs of erstwhile rulers of Jaipur are beautifully and intricately carved. If you are not one to think morbid thoughts, then this is one of the places to see in Jaipur. Kings interred here include Pratap Singh, Madho Singh II, and Jai Singh II.
17. Amer Fort for Some Architectural Innovations
Built in the 16th century, this fort is known for its Hall of Mirrors or Sheesh Mahal, the natural air conditioned Sukh Niwas or Hall of Pleasure, and the multi-pillared Diwan-i-Aam. Made of red and white sandstone, this fort is a mix of Rajput and Mughal styles of architecture.
18. Visit the Anokhi Museum of Hand Printing
Peek into the ancient art of block printing and learn about the history of hand printed textiles at the Anokhi Museum of Hand Printing. Rarely found on the list of best places to visit in Jaipur, this little-known gem is tucked away near Kheri Gate in Amber town.
With so much to see and do, it might be difficult to decide on which tourist attractions in Jaipur you must visit. If you are the adventurous kind, don't hesitate to take the path less travelled, and experience some unique sights when in this historic city, and do share your experience with us!