Kerala is one of the most beautiful tourist destinations which attracts numerous tourists all year round. Bestowed with a scintillating landscape evident in its verdant hill stations, backwaters, mesmerizing beaches, dense forests and scenic vistas, Kerala is a perfect place to vacation alone or with loved ones. There are a number of tourist places to visit in Kerala that range from coastal cities to hill stations and each one of them offers you something unique and indigenous to enjoy and cherish. If you are planning a trip to visit God's Own Country, scroll through our list of best tourist places to visit in Kerala and plan your itinerary accordingly!
24 Best Tourist Places to Visit in Kerala
1. Cruise Through the Charming Backwaters in Alleppey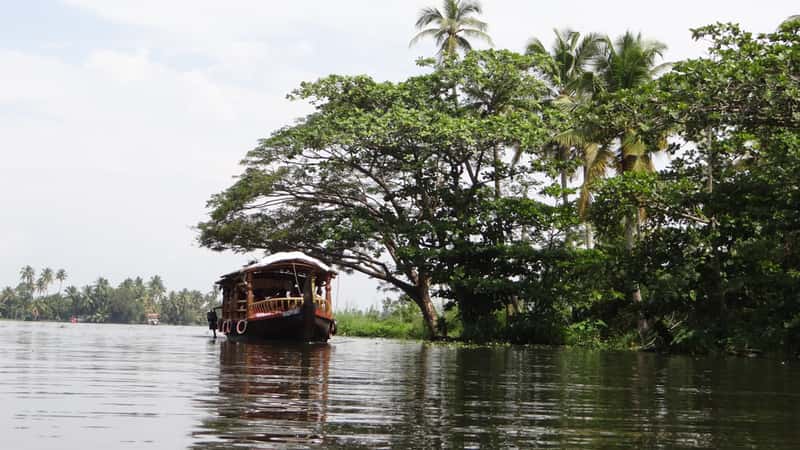 Alleppey is the most popular tourist destinations in Kerala which is famous for its mesmerizing locations of the backwater. The place is often referred to as 'Venice of the East'. Spending time on the houseboat and exploring the mesmerizing sightseeing locations of the place is altogether a different experience.
The lakes, small villages, peaceful surroundings and the relaxing environment, all contribute to making Alleppey one of the greatest tourist attractions.
Best time to visit: September to May
Attractions: Alleppey Beach, Krishnapuram Palace, Punnamada Lake
Book budget hotels in Alleppey with Treebo Hotels and enjoy a pleasant stay.
Must Read: 13 Fascinating Places to Visit in Alleppey in One Day
2. Explore the Diverse Wildlife at Thekkady
Thekkady is the perfect place for the people who love to explore the wildlife of the place they visit. The thick forest and the wild vegetation of this place is the home of many wildlife spices. There are also many exotic wildlife spices that cannot be found anywhere else.
You can witness lions, deer, tigers, elephants, sambars, gaurs, etc. in the wildlife sanctuary of Thekkady.
Best time to visit: November to May
Attractions: Elephant junction, Periyar Lake, Kumily, Mullaperiyar Dam
Book budget hotels in Thekkady for a relaxed and comfortable stay.
Must Read: 15 Amazing Road Trips to Take from Chennai
3. Swim the Blue Waters of Kovalam Beaches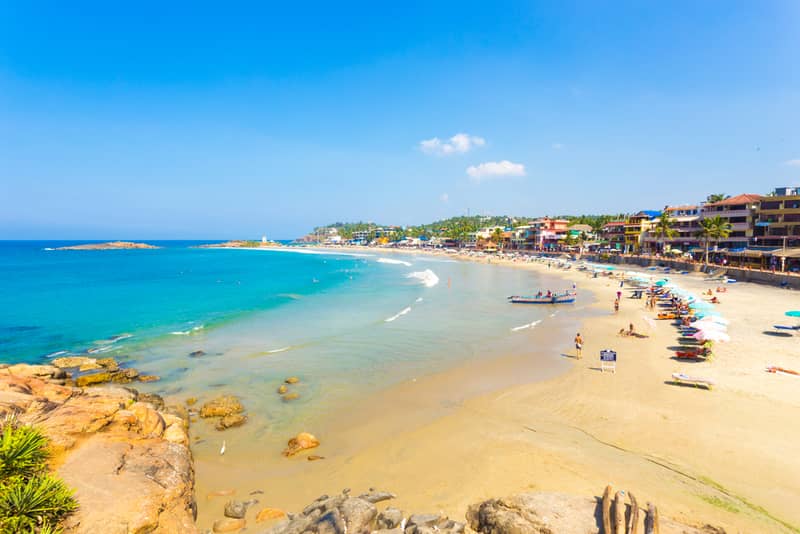 One of the most popular destinations in Kerala is its beaches which are available at Kovalam. The beaches available here are clean and amazingly beautiful that can capture anybody's attention. You have a number of interesting things to do in Kovalam like visiting many Ayurvedic centres, massage centres, spa, etc. near the beach.
You can visit the beach to relax from the daily stress and the hectic schedule. You can also try your hand with the various water sports available on the beach.
Best time to visit: September to May
Attractions: Adventurous water sports
Book hotels in Kovalam for a comfortable and enjoyable stay.
Must Read: 13 Best Places to Visit in Kovalam, Kerala
4. Sample Tea and Spices at Munnar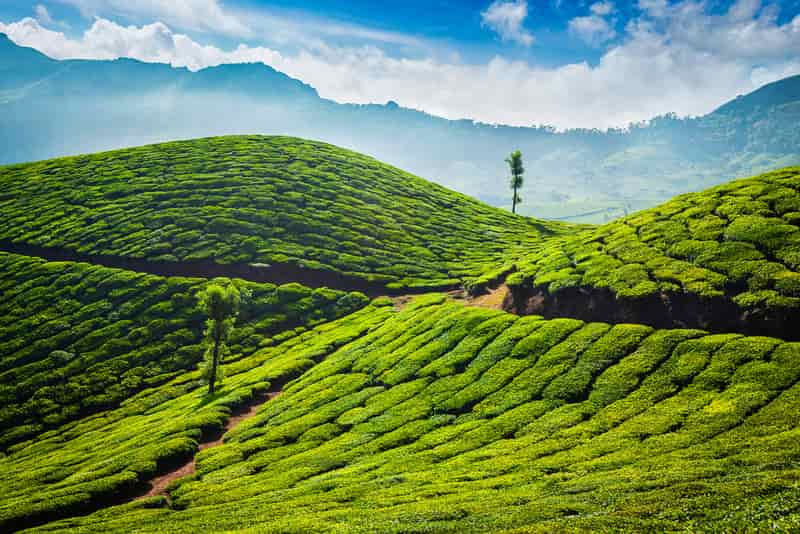 Munnar is the perfect holiday destination for honeymoon couples. One of the popular hill stations available in Kerala, Munnar offers many picturesque locations to the couples. The cool breeze and the mesmerizing beauty of the place enhance the charm of the place to attract the tourists. You can also enjoy a wide variety of tea and chocolates here and purchase freshly grown spices in Munnar.
Apart from the natural allure of the place, there are many accommodation options available there, which are extremely comfortable and stylish.
Best time to visit: October to March
Attractions: Blossom Park, Attukal Waterfalls
Book comfortable hotels in Munnar with Treebo Hotels and have a memorable stay.
Must Read: 12 Best Places to Visit In March In India for a Fun-Filled Getaway
5. Explore the Natural Beauty at Kumarakom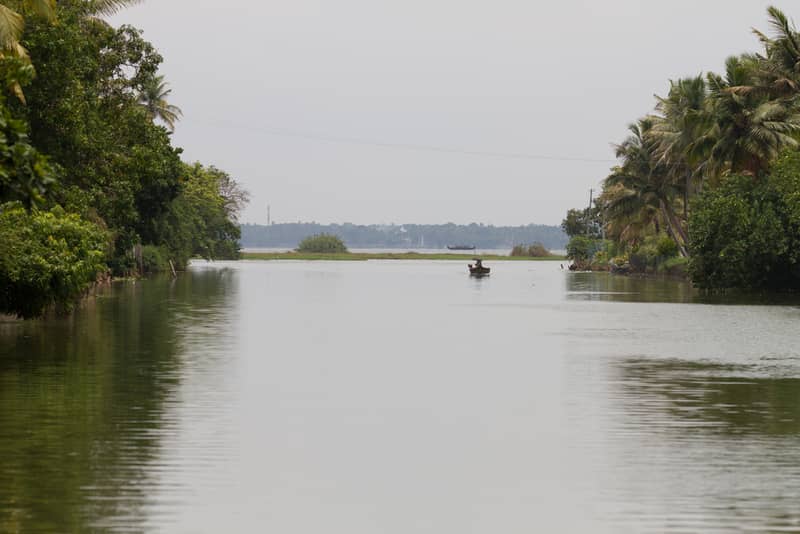 When it comes to offering numerous sightseeing options, there can be no better option than Kumarakom in Kerala. The place attracts the tourists with its wide collection of historic monuments, backwaters, mangrove forests, amazing architectural delights, etc.
Along with admiring the beauty of the place, you can also indulge in some of the enjoyable activities like boating, fishing, staying on a houseboat, cruising, etc. You will be thoroughly entertained at this place.
Best time to visit: September to May
Attractions: Kumarakom Bird Sanctuary, Aruvikkuzhi Waterfall
Must Read: 15 Splendid Places to Visit in South India
6. Savour the Picturesque Scenery of Wayanad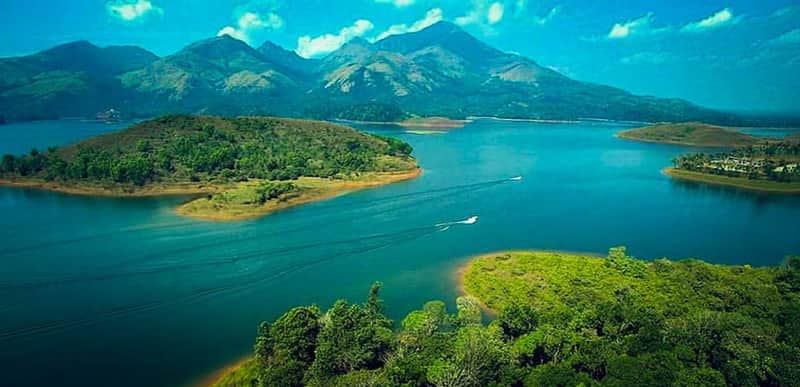 Considering the beauty of this place, it can be surely referred to as heaven on the Earth. It is one of the cleanest and finest of places in the country and attracts tourists from all over the country. The lush greenery enhances its charm and allure and makes you fall in love with the place. Wayanad welcomes you with open arms to its rich heritage and incredibly beautiful landscape.
Best time to visit: October to May
Attractions: Thusharagiri Waterfalls, Banasura Hills
Book comfortable hotels in Wayanad and enjoy a peaceful stay at Treebo Hotels.
Must Read: 17 Places to Visit in and Around Wayanad
7. Witness the Coastal Paradise at Kasaragod
It won't be wrong to say that Kasargod is one of the best tourist places to visit in Kerala for nature lovers. Tourists from around the world visit this Kasargod and explore the mesmerizing and amazingly attractive places here. The untouched beauty of this place also justifies the expectations of the people.
You will feel totally relaxed in the pleasing and soothing surroundings of the place.
Best time to visit: June to November
Attractions: Bekal Fort, Madhur Temple, Ananthapura Lake Temple
8. Revel in the Peaceful Surroundings of Kizhunna Beach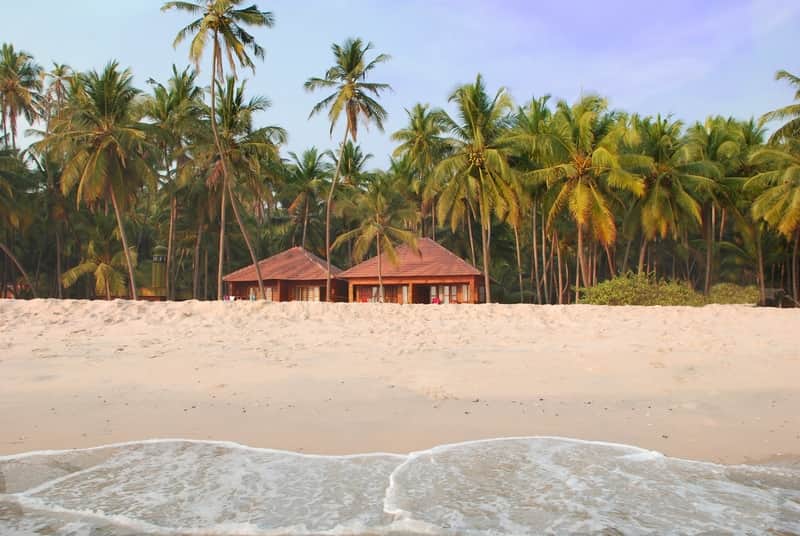 If you wish to enjoy a solitary and beautiful "sea and me" time on the beach, Kizhunna Beach would make a perfect destination for you. The mesmerizing beauty of the beach is sure to captivate you while the soft breeze sings in your ears. Indeed one of the best tourist places to visit in Kerala, Kizhunna Beach is a must-visit for all the beach lovers.
Best time to visit: Throughout the year
Attractions: Ezhara Beach, Kannur town, Sea View Park, Munambam, Mappila Bay
Must Read: Top 10 Tourist Places in India that Rival Anything Europe Has to Offer
9. Visit the Queen of the Arabian Sea, Kochi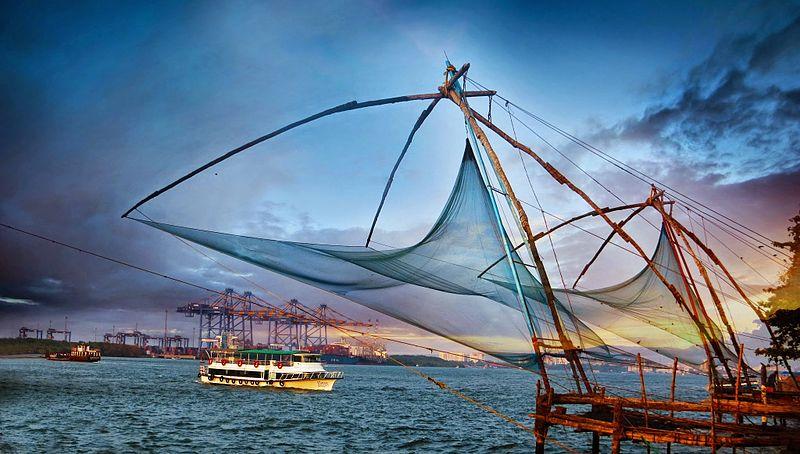 The commercial city that is also blessed with incredible beauty, lush greenery and gorgeous beaches, Kochi is undoubtedly one of the best Kerala tourist places to visit for a relaxed and amazing holiday. Kochi also boasts of numerous temples, a Kathakali centre, palaces, art galleries, pubs and cafes that one can explore to enjoy the traditional and modern vibes this city offers.
Additionally, you can also take a ferry ride to numerous islands scattered across in Kochi, check out the famous Chinese fishing nets, and gorge on the sumptuous Kerala cuisine.
Best time to visit: October to March
Attractions: Fort Kochi, Mattancherry Palace, Chinese Fishing Nets, Wonderla Amusement Park
Book Budget Hotels in Kochi
Must Read: 22 Fabulous Places to Visit in South India in December
10. Cherish Some Solitary Moments at Vagamon
Vagamon is one of the most alluring tourist places to visit in Kerala especially if you are planning a solo trip, self-driving. This offbeat hillstation is a perfect choice to spend some lone time enjoying the nature in its beautiful best and soaking in the views and serenity this places offers. The Vagamon Pine Forest is a great place to visit if you love walking through a dense forest with lush greenery.
The fresh air from the surroundings accompanied by some beautiful valleys, gardens, plantations, etc. makes the perfect combination to release the daily stress.
Best time to visit: August to May
Attractions: Thangal Hill, Murugan Hill, Vagamon Lake
11. Head Out to the Mesmerizing Coastal Town of Kannur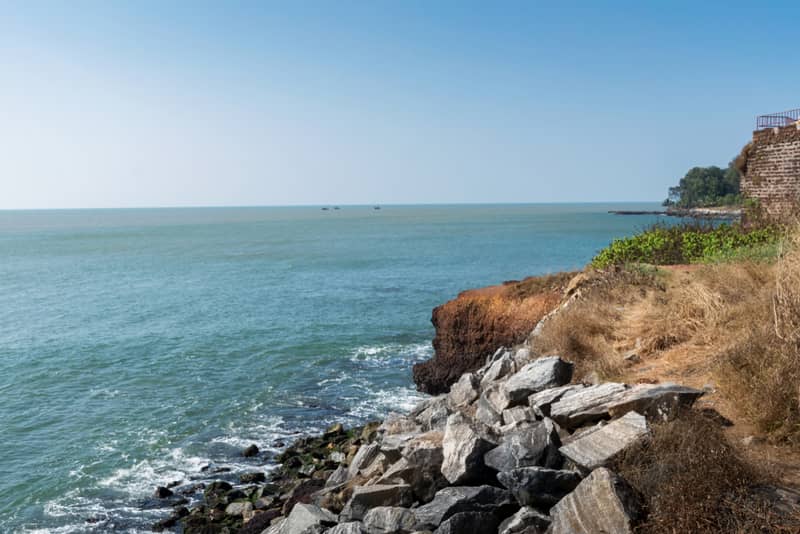 This is one of the most popular destinations to visit in Kerala, Kannur is a picturesque coastal town that exudes an aura of the Colonial era and is also famous for the numerous beaches, temples and picnic spots. The town is also well-known for artistic weavers and their weaving which is why it is also known as Lands of Looms and Lords. Along with this, the pristine town also has huge, swaying cashew trees as well.
You can witness temples, beaches, plantations, great architectural buildings, etc. which makes the town look splendid.
Best time to visit: October to March
Attractions: Ezhimala Beach, Tellicherry Fort, Rajarajeshwara Temple, St. Angelo's Fort
Must Read: The 16 Most Beautiful Villages in India
12. Fall in Love with the Seaside Charm of Varkala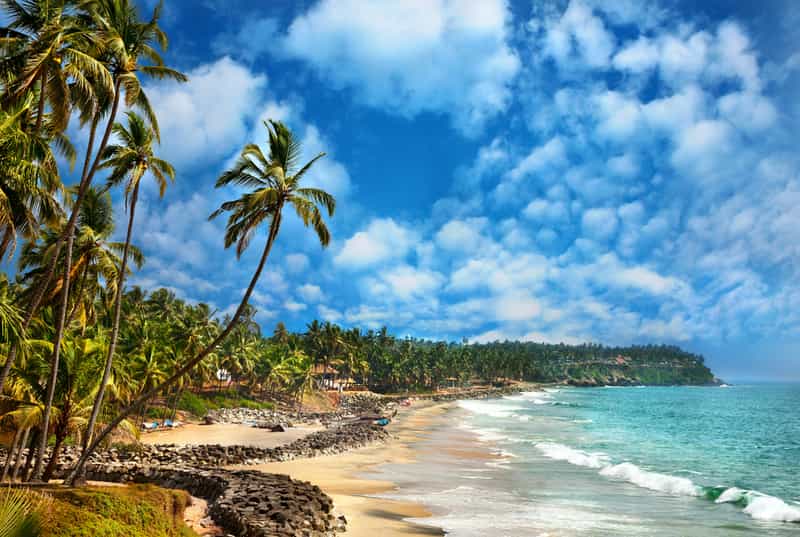 Kerala undoubtedly is famous for its pristine, blue beaches and Varkala is no different. The stunning views coupled with the splashing waves of the beach fills you with tranquility everytime you visit the beaches in Varkala. You can also indulge in numerous water sports or simply swim in the crystal blue waters of the beaches here. Visiting this beautiful place in the evening just adds charm to your trip as you get to enjoy a scintillating sunset and also some lone time for yourself.
Don't forget to try the adventure of various water sports like boating, surfing, parasailing, jetting, etc. at this place.
Best time to visit: August to May
Attractions: Water sports, Janardhanaswamy Temple, Varkala Cliff,
Must Read: 37 Beaches in South India That You Should Know About!
13. Witness the Architectural Grandeur in Kozhikode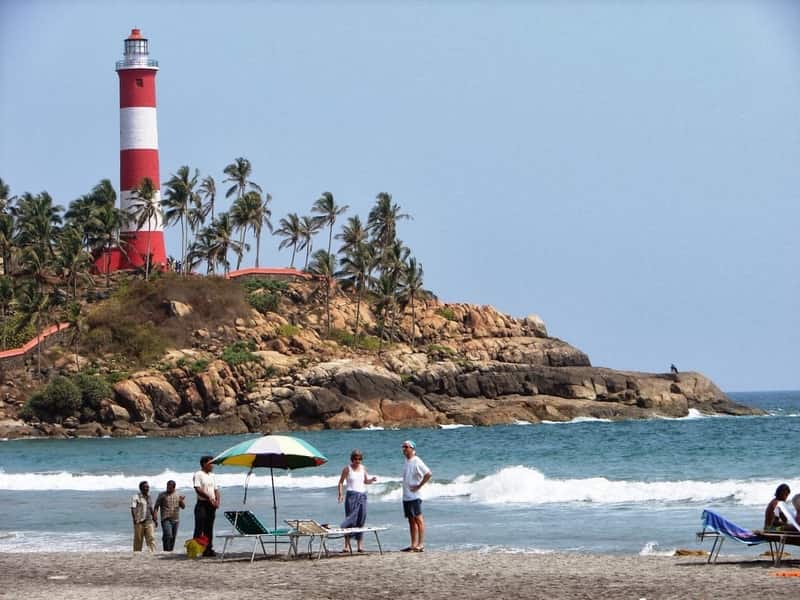 This well-known place in Kerala is popular for its attractive and grandiose architecture resplendent in the various monuments and buildings dotting this city. These buildings and monuments have a rich history and also reflecting the richness of this place in culture and history. One of the best things to note here is the authentic flavours of the Malabar food along with the different spices.
The architectural beauties here have a touch of Dutch and British varieties which makes these buildings, monuments, etc. look ravishing.
Best time to visit: September to May
Attractions: Hilite Mall, Tali Temple, Mananchira Temple, Matri Dei Cathedral
14. Experience the Untouched Charm of Kuttanad
Located at the heart of Alapuzha district in Kerala, Kuttanad is a farm land famous for its lush freen paddy fields backwaters. Kuttanad is top must-visit locale if want to get a glimpse of the rural side Kerala. Enjoy the calm and serenity of this place amid beautiful villages, agricultural fields, river, backwaters and a picturesque landscape.
You can get closely related to the beauty of the rural and simple living of the people along with the traditional heritage of Kerala.
Best time to visit: October to March
Attractions: Pampa River, Punnamada Backwaters, Thottapally Spillway Dam
15. Visit the Scenic Idukki
Idukki is another popular destination and also one of the best tourist places to visit in Kerala. Although a landlocked place, the dense forest cover in Idukki and the lush greenery is sure to make your heart flutter as you soak in the charm and allure of this place. It is indeed a amazing place to refresh, unwind and rejuvenate yourself from a trip.
Idukki is best for promoting ecotourism as well owing to its thick forest cover, wild life sanctuaries tea factories and more.
Best time to visit: June to August
Attractions: Kulamavu Dam, Idukki Arch Dam
16. Enjoy a Ride in the Kavvayi Backwaters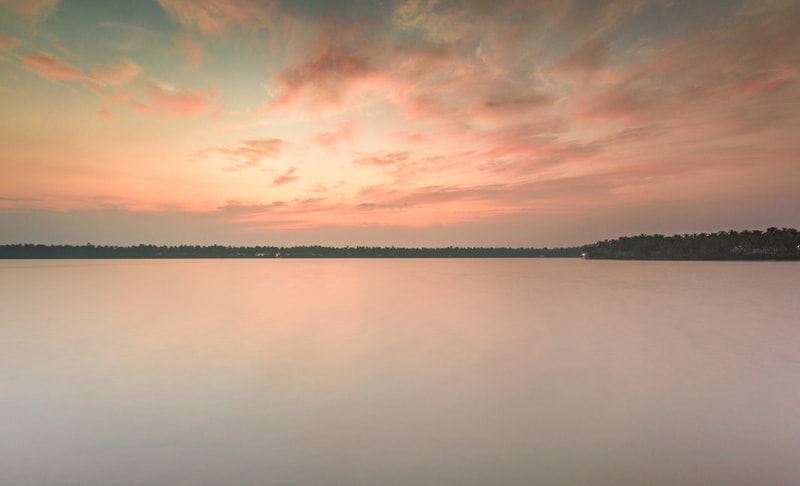 This is the place which is one of the best attractions in Kerala where one can explore the beauty of backwaters. Kavvayi Backwaters is quite popularly known as Kerala's third-largest backwater and thus is one of the major attractions of South India.
The picturesque landscape is sure to make you fall in love with it while you enjoy boating in the houseboats on the backwaters.
Best time to visit: October to March
Attractions: Snake Forest, Backwaters
17. Experience the Amazing Vistas of Munroe Island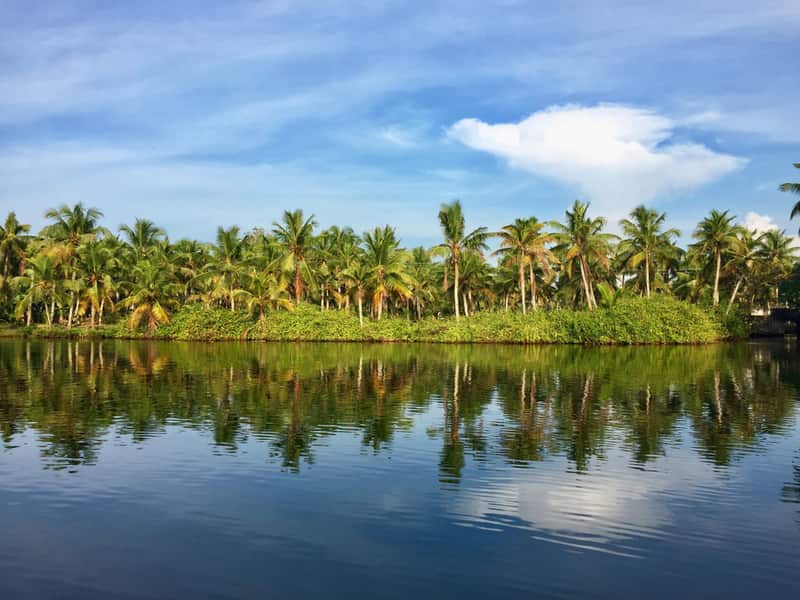 There is no denying the fact that Munroe Island is one of the most gorgeus and attractive tourist places to visit in Kerala. The confluence of Kallada River and the Ashtamudi Lake has bestowed upon this island incredible vistas and the serenity and calm that you get to enjoy here is inexplicable and mystifying.
Cruise through the serene waters of the Lake Ashtamudi and enjoy the view of the swaying coconut trees and mangrove forests. The place is a must-visit for exploring the rural landscape of Kerala.
Best time to visit: Throughout the year
Attractions: Kollam Beach, Thirumullavaram Beach, Kallada River
Must Read: 33 Honeymoon Places in South India That Are Made for Newly-Wed Couples
18. Cruise Through the Handsome Floating Cottages in Poovar
Poovar Backwaters gives you a chance to witness the dense mangrove forests, different species of birds and also get a glimpse of the mighty Arabian Sea when you get on a boat ride here. Apart from that, you can also witness floating cottages and restaurants where you can either book a stay or gorge on some amazing kerala cuisine. If you want to explore the true beauty of nature, Poovr Backwaters should definitely feature in your travel itinerary.
Best time to visit: October to February
Attractions: Aazhimala Siva Temple
19. Experience the Cultural Heritage of Thrissur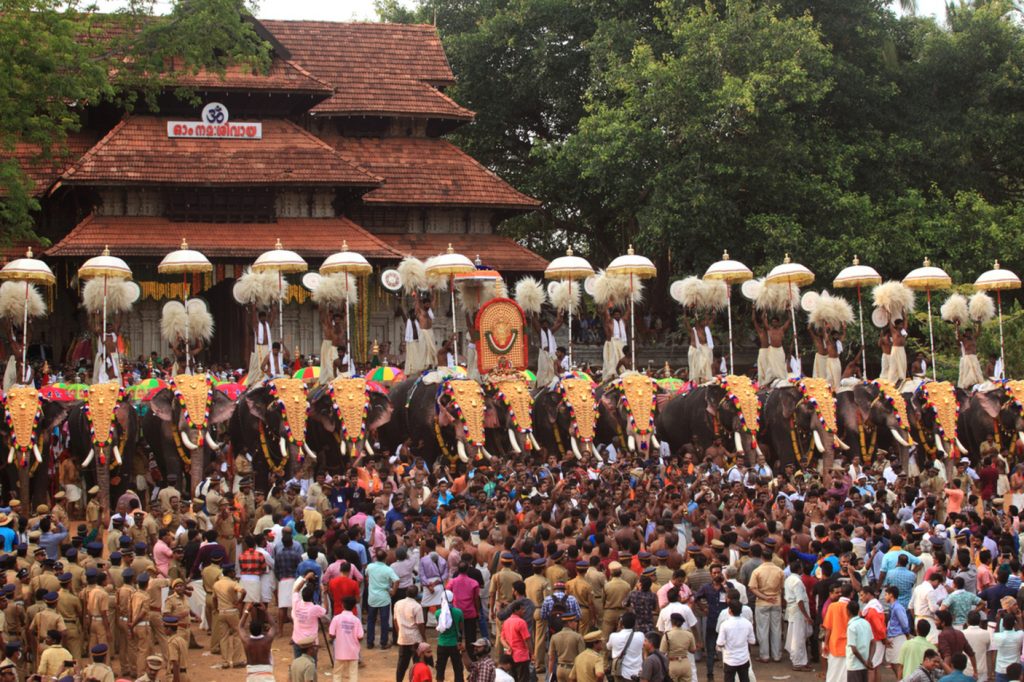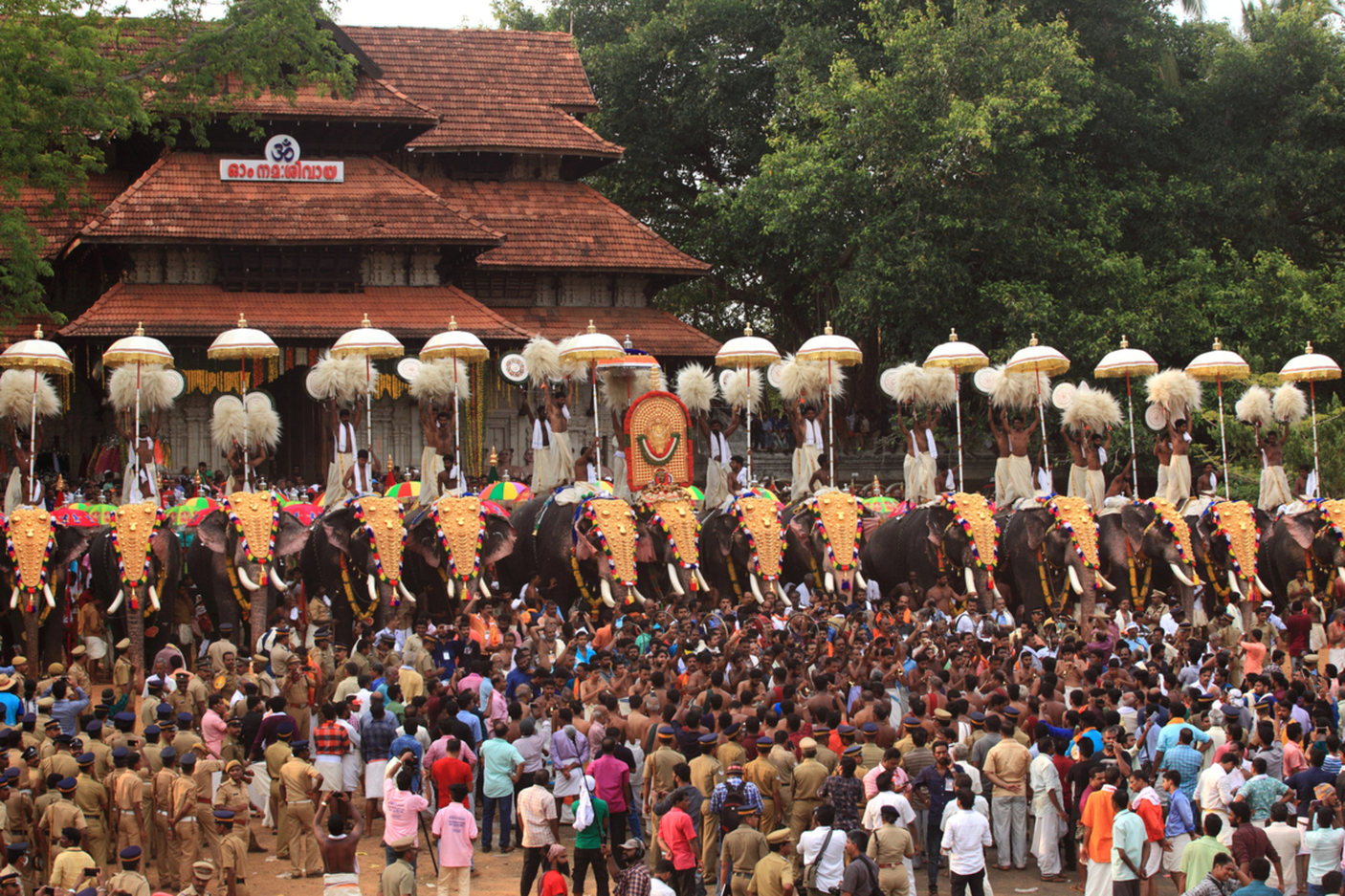 The rich cultural heritage of Kerala is reflected amazingly in the religious and historic city of Thrissur. The annual Thrissur Pooram festival sees lakhs of devotees flocking here and also visiting other intersting places to visit in Thrissur. The temples, museums and other architecturally significant places in Thrissur have a rich history to tell and are indeed a treasure trove that historians and religious people can deep dive.
You can also witness the amazing festive celebrations of Onam and Pooram where you can find the true beautiful colours.
Best time to visit: October to March
Attractions: Vazhachal Waterfall, Vadakkunnathan Temple
Must Read: 16 Magnificent Shiva Temples in India that Are a Must-Visit for Every Shiva Devotee
20. Witness the Nature's Delight at Palakkad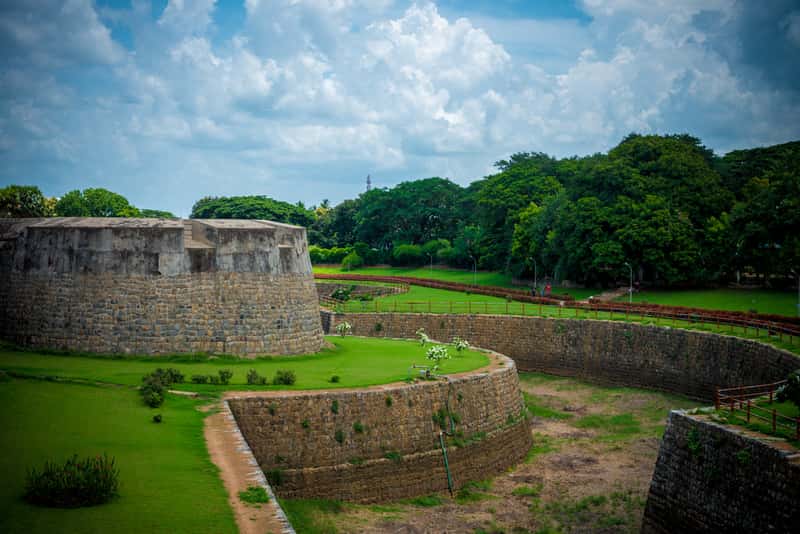 Do you wish to vacation at one perfect place where you can find pleasing weather, awesome surroundings and lush greenery? If so, then visiting Palakkad should definitely feature in your Kerala tourist places to visit! Palakkad let's you enjoy all this and much more. You can visit the various dams, waterfalls, temples and alos enjoy the authentic Kerala-style food.
The place is known for its untouched, mesmerizing beauty and the is sure to give you a good glimpse of Kerala's rich culture and tradition.
Best time to visit: November to March
Attractions: Palakkad Fort, Jain Temple, Parambikulam Wildlife Sanctuary
21. Visit the Off-beat Malappuram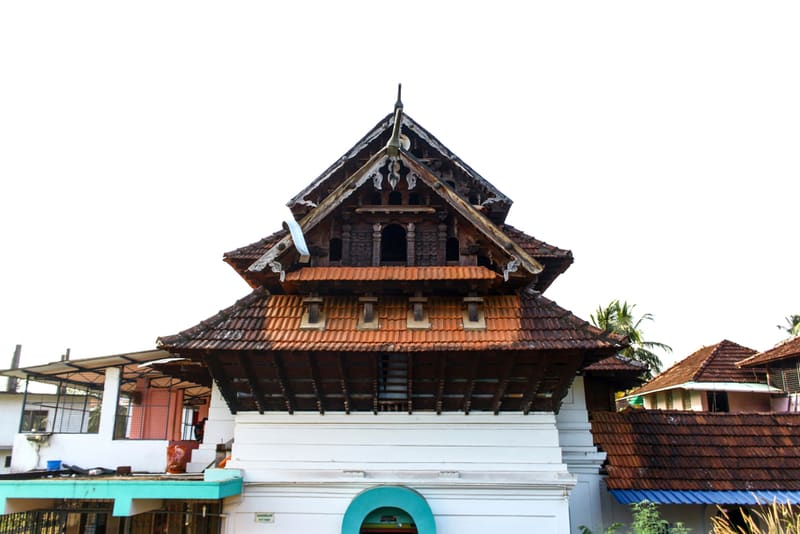 A prominent district in Kerala, Malappuram in famous for being connected to the Arabian Sea in the west and Nilgiris in the east. Unlike the many other attractions of Kerala, this off-beat destination is complete package of hertiage and history that can be witnessed in the various ancient monuments present here. It has a very popular Islamic philosophy centre along with a centre of Hindu Vedic learning.
Other than these attractive sights, you can also find some ancient temples, monuments, and mosques.
Best time to visit: July to September
Attractions: Nilambur Teal Museum, Kottakkunnu
22. Take a Trip to the Temple Town of Guruvayur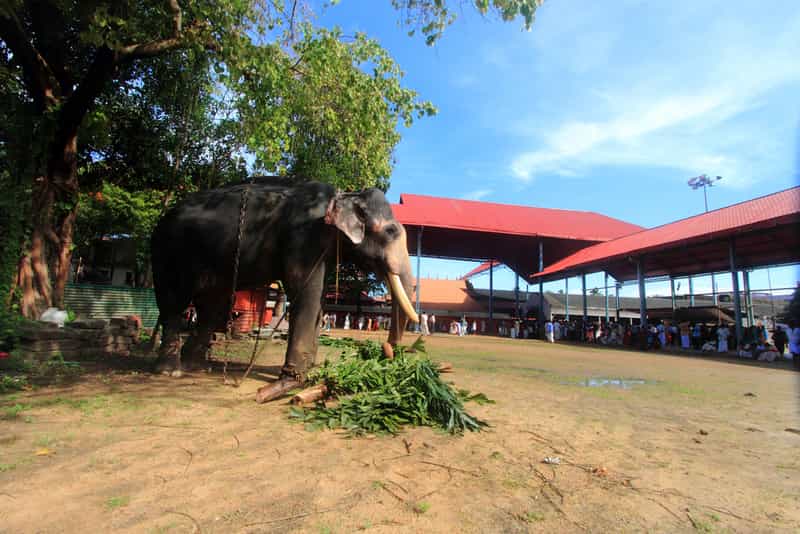 Home to third-largest Krishna Temple in India, this aesthetic temple town is is a part ofthe Thrissur district and one of the important places to visit in Kerala. Guruvayur also has an elephant sanitarium called the Punnathur Kotta or Palace of Elephants where the elepants are taken care of and brought out during festivals. Although a small town, Guruvayur is visited by thousands of devotees during various festivals like Janmashtami, Guruvayur Ekadashi and others.
You will instantly connect with the positive and relaxing environment of the place. The architecture of the place also reflects the local culture of the state.
Best time to visit: October to March
Attractions: Mammiyoor Temple, Vishnu Temple, Guruvayur Lord Krishna Temple
23. Escape into the Verdant Ponmudi
Ponmudi is popularly known as the golden peak amongst the tourists because of the beauty that this place portrays. If you love mountains and find them relaxing, this place would certainly be one of the few places that will totally attract you. The picturesque landscape and the breathtaking beauty of the surroundings are enough to make you fall in love with this place, which makes it one of the most popular tourist places to visit in Kerala.
Best time to visit: Throughout the year
Attractions: Mankayam Waterfall, Meenmutty Falls
Must Read: The National Festivals of India That You Must Experience When You Visit
24. Visit the Beach City of Thiruvananthapuram
Kerala's capital city, Thriuvananthapuram is well-known for the world-famous Padmanabhswamy Temple, incredible beaches, palaces, museums and authentic Kerala cuisine that one can enjoy here. A perfect blend of art, architecture, culture and heritage, Thriruvananthapuram is one of the best and significant Kerala tourist places to visit to get an insight into the state's tradition and lifestyle of Keralites.
Best time to visit: October to February
Attractions: Neyyar Dam, Padmanabhaswamy Temple, Kanakakunnu Palace, beaches
Book Budget Hotels in Thiruvananthapuram
Must Read: 10 Best Places to Shop in Thiruvananthapuram
These are some of the best and popular tourist places to visit in Kerala that shouldn't be missed when in Kerala. All of them promise a great respite and provide a glimpse of Kerala's rich ecosystem, lush greenery, history, culture and traditions. Plan a trip with friends or family to the "God's Own Country" and get captivated by its immense allure and charm.

Don't forget to share your experience of visiting Kerala and different places in Kerala in the comments below! And in case we've missed out on ay of the awesome places to visit in Kerala, feel free to comment below.
Frequently Asked Questions
Q1 What is Kerala famous for?
Kerala is famous for its rich ecosystem and the ecotourism drive, varied landscape which includes verdant hill stations, magnificent beaches, biodiversity, beautiful backwaters and incredible architecture. It is also well-known for its delicious seafood and other local dishes.
Q2 How many days are sufficient for a trip to Kerala?
One can plan a trip to Kerala for 6 nights and 7 days or even 9 nights and 10 days depending on the number of places to visit in Kerala and things to do in Kerala. If you plan a longer duration, you can visit numerous hill stations such as Ponmudi, Vagamon, Munnar, and even check out a number of off-beat places like Idukki, Kuttanad, Poovar, Kozhikode and more.
Q 3 What is the best month to visit Kerala
Kerala being a tropical city witnesses very hot and humid summers and it is best to avoid visiting Kerala during summers. The best time to visit Kerala is from September to March when it relatively has a moderate climate.
Q4 What are some of the best things to shop for in Kerala?
One can shop for the traditional off-white sarees and mundu, Banana chips, spices and tea in Munnar, aroma oils and ayurvedic oils, jackfruit products, pure coconut oil, gold and jewellery.