Hyderabad is best known for its Nawabi culture and it's mouth-watering, world famous biryani! The 400-year-old capital of Nizam's state of Hyderabad is also known as the city of pearls. Hyderabad now serves as the capital of country's youngest state, Telangana.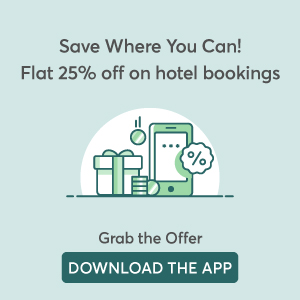 While it has emerged as one of India's leading IT hubs, Hyderabad has preserved its elegance and hospitality. The unique culture is famously referred to as the 'Ganga-Jamuni tehzeeb'.
One side of the City, Cyberabad, is dotted IT buildings. The other part of the town famously known as the 'old city' takes you back in time to the historical Hyderabad. Thanks to the numerous tourist attractions in Hyderabad, the city is a preferred destination for travellers from all over the World.
13 Places to Visit in Hyderabad
1. Charminar
The identity of Hyderabad, Charminar is one of the best places to visit in Hyderabad. Located right in the heart of old city, this 400-year-old monument is shrouded with mysteries. Stories of secret tunnels filled with treasures make it one of the most visited tourist places in Hyderabad.
2. Ramoji Film City
The largest film studio complex in the world, it is one of the most famous places in Hyderabad. Spread over a whopping 1,666 acres of land, it houses some of the most creative film sets. It hosts a wide range of programs and activities that take you deep into the world of cinema.
3. Falaknuma Palace
This palace turned 5-star hotel was once home to the Nizams of Hyderabad. Meaning "like the sky", a tour of Falaknuma is sure to leave you envious of the people who once occupied it.
4. Salar Jung Museum
Named after the Prime Minister of the seventh Nizam of Hyderabad, this museum houses the largest one-man collection of antiques in the World. It ranks among the must-visit tourist places in Hyderabad. A tour of this museum is sure to leave you stunned with the sheer volume and rarity of antiques on display.
5. Mecca Masjid
For those looking for sanctity and peace of mind, these two are the places to visit in Hyderabad. Mecca Masjid is the second largest mosque in India.
6. Birla Temple
Birla temple, a full marble structure is perched atop a rock which overlooks the entire city.
7. Sudha Car Museum
A visit to this museum is sure to surprise you. A Guinness world record holder, this museum is one of the unique places to see in Hyderabad. It has some of the wackiest and weirdest automobiles on display.
Ranging from a burger car to a pen-shaped motorbike, this museum has featured in Ripley's believe it or not. Unique and quirky, it has carved a space for itself in the list of places to visit in Hyderabad.
8. Chilkur Balaji Temple
A temple like no other, this temple also made it to the Ripley's believe it or not. Revellers visit this place, not to pray for wealth or well-being but for getting a US visa. This temple is now a tourist attraction in Hyderabad.
It is also known as 'visa Balaji', and on any given day you will find hundreds of worshippers either worshipping for or thanking the Lord for successful processing of their US visas. This place is God's own US embassy!
9. Taramati Baradari
While this monument does not find a mention in too many places to visit in Hyderabad list, a visit here will definitely leave you awe-struck. Legend has it that Abdul Qutub Shah a Sultan of Hyderabad would hear his courtesan Taramati sing from his throne which was 2 kilometres away at Golconda fort.
10. Birla Science Museum and Planetarium
Hyderabad's Birla science museum and planetarium is sure to spike your interest in everyday science and outer space. Famous amongst people from of all ages, this is one of the best places to visit in Hyderabad. The museum also displays a life-size model of a dinosaur made of bones excavated at a location nearby.
11. Hussain Sagar Lake
This is one of the largest man-made lakes in India. It features the world's largest monolithic statue of Lord Buddha in its centre. The country's second largest flag is positioned on its banks.
Located in the heart of the city, Hussian Sagar is another of the famous tourist places in Hyderabad. Dotted with beautiful parks and roadside eateries, this place is perfect for a casual evening stroll.
12. Dialogue in the Dark
Step into a restaurant and a museum that is built to give you a first-hand experience of how the visually impaired live their lives. It is one of the most extraordinary places to see in Hyderabad. You are given a tour in complete darkness, and your guide is a visually challenged person. You can also dine in complete darkness.
13. The Laad Bazaar
Yet another jewel in the crown of Hyderabad, this colourful market in the old city is famous all over for its lac bangles, clothes and jewellery. You can buy the famous Hyderabadi pearls in this market while savouring the most scrumptious roadside delicacies. The hustle bustle of this colourful market is sure to leave you spellbound. One of the most famous places in Hyderabad, a visit to this bazaar is a must.
Rated second on the must-travel destinations list in the World by Nat Geo in 2015, Hyderabad is a true representative of the Deccani style of living. On the one hand, the city is fast paced and fast developing, and on the other, it is relaxed and laid back.
With so many unique tourist places in Hyderabad, this city has to be one of the best in the country. Experience Hyderabad, and do remember to share your story with us!