The land of the best vada pav, cutting chai and some solid chaat, Mumbai is the city that will make you ditch those diet plans and eat till you can't eat anymore. With big fancy restaurants, cafes, small restaurants, stalls and even cycle-stalls all over the city, there is something for everyone and every budget. The street food experience will give you the chance to sample the best food in Mumbai without burning a hole in your pocket.
Top 10 picks for the best Street food in Mumbai
The best food places in Mumbai are found on the streets near Colaba, Churchgate, Bandra and Ville Parle with the lanes filled with a variety of cuisines at both restaurants and food stalls alike. Some of the famous street food in Mumbai includes:
1. Pav Bhaji and Kheema pav
Heated, well-buttered bread, called the 'pav' is served with a mixture of mashed vegetables. The curry is infused with spices and topped off with a dollop of butter and called the 'bhaji'. A side of onions and lemon completes the dish. This is hands down one of the most famous food in Mumbai.
The non-vegetarian variation of this is called the kheema pav and features minced meat in the 'bhaji' instead of the mashed vegetables. The pav bhaji, though originating from Maharashtra, can now be found in most places all over India. However, the best place to enjoy this rich street delicacy is at one of the stalls on the streets of Colaba. The best missal pav can be had at Vinay health home on Charni Road.
2. Bun Maska and tea
The go-to midnight snack of any Mumbaikar, bun maska and a glass of cutting chai is definitely something you should try when in Mumbai. With cycle-stalls all over the city, this little treat is not hard to find.
3. Kulfi and Ice cream sandwich
Kulfi is a type of ice cream that is indigenous to India. It is denser and creamier than the traditional ice cream and comes in more flavors such as elaichi (cardamom), malai (cream), rose and safforon. Head on down to the Princess street galli to enjoy the best kulfis and ice halwas, or go up to Chowpatty and sample one of the kulfis at the New Kulfi Centre. Gokul Ice Creams at Santa Cruz is an alternative option.
4. Vada pav
Potato patties infused with spices and golden fried wrapped in a well-buttered blanket of bread, this is a staple on the streets of Mumbai and can be found anywhere you go.A spicier version of this can be found in the 'missal pav' which will not fail to leave even the braves of you teary-eyed. The best stalls to try this delicious treat, however, are at Anand Vada Pav stall in Ville Parle (west).
5. Falooda
Falooda is a popular Indian dessert which is a combination of rose syrup, sweet basil seeds, vermicelli, milk and pieces of jelly. It is topped off with a scoop of ice cream. Although available at different stalls on the streets of Bombay, falooda is best enjoyed at Baadshah at Crawford market. Alternatively, you could also visit Baba falooda at Mahim for one of their specialty faloodas.
6. Kababs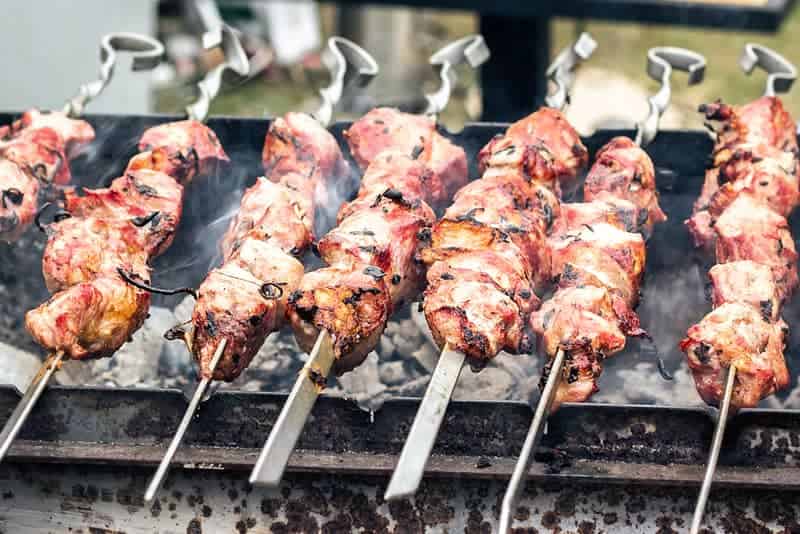 Succulent pieces of meat char-grilled over a barbeque served with a side of soft fluffy rotis or naan bread, kababs in Mumbai are melt-in-you-mouth material. For the best of it, head on down to Muhammad Ali road or Dimtimkar road and take your pick from the numerous stalls that serve this delicacy.
7. Bademiya rolls
An establishment that has become a must-do when in Mumbai, the crowds only begin to make their journey to Bademiya post 3 am. Delicious stuffings of meat wrapped in thin, soft blankets of roomali rotis, the rolls here are to die for! While you're there, try out the 'baida roti' that most customers cannot stop raving about.
8. Chaat
Whether for Bhelpuri or Pani puri or any other chaat that you might be craving, the area near Chowpatty beach is where you should be heading for the best chaat in Mumbai. Elco in Bandra West is another one of the popular chaat joints in Mumbai.
9. Gola
Available until way past midnight, these ice-candy treats are available on carts, all through the city. For the best experience, head down Marine Drive for a stroll and grab a gola of your choice from one of the many carts stationed along here. For the best malai gola, head down to Juhu Chowpatty which also has stalls that offer the option of 'mineral water gola'.
10. Meetha paan
Pan is the perfect way to finish off any meal, and one of the best paan shops in Mumbai definitely has to be the Mucchad paanwala at Breach Candy. The chocolate paan or maghai meetha at Ghantawala Pan Mandir in Borivali is also something worth trying.
The famous food of Mumbai streets is both yummy and also easy to your pocket. But my favorite pick for the complete food experience in Mumbai would definitely be Churchgate Khao Galli. Situated right outside the Churchgate station, this place is any foodies dream destination. Indulge your taste buds in Mumbai and do share your story with us!