Chennai, the quintessential city of the southern state of Tamil Nadu, is loved for various reasons – be it the beautiful beaches, the delicious and spicy street food, the wide roads or the various Colonial-Era architecture dotting the city. There are also a number of amazing places to visit near Chennai where you can plan a 1-day, 2-day, 3-day trip or a long vacation to escape the city's chaos once a while! From hill stations, religious sites to amusement parks, in this blog, we bring you a complete list of all the cool places to visit near Chennai.
Places to visit near Chennai Within 100 Kilometres
1. Dakshinachitra
A remnant from the history of South India, Dakshinachitra is a living museum. A lesson in South Indian art, architecture, craft, performing arts, and every-day lifestyle, Dakshinachitra is one of the most frequently visited places near Chennai.
For most South Indians, a visit to Dakshinachitra is a strangely disconcerting experience, with familiar aspects of one's culture mixed with similar reflections from others.
Distance from Chennai: 25 kilometres
Timings: 10:00 AM to 6:00 PM; Weekends – 10:00 AM to 7:00 PM, Tuesday closed.
Entry Free: Indians – Rs110 (Rs130 during festivals); Children (5-12years) – Rs30; Students (13-18years) – Rs50-Rs75; Foreigners – Rs250; Foreign students – Rs70;
Photo/Video: Allowed; Camera – Rs25; Video camera/DSLR – Rs150;
Tips: To avoid the scorching sun, you can visit the museum before 12PM or around 4PM. Admire the age-old artefacts and shop for souvenirs in the shops outside the museum.
2. Kishkinta Theme Park
Kishkinta Theme Park was India's first amusement park. Apart from the rides and games, the park is verdant with greenery and also contains a lake. The amusement park boasts of recent technological advancements – including a 3D theatre for a virtual experience. It also has giant water rides like elephant splash, water volcano, wave pools and more. Kishkinta Theme Park is a perfect place to visit near Chennai for one-day trips, as it caters to the entertainment for both young and old.
Distance from Chennai: 32 kilometres
Timings: 10:00 AM to 6:00 PM
Entry Fee: Rs690 for adults; Rs490 for children;
Best time to visit: In Summers – Between March & May to enjoy the water rides; In Winters – November to February
Tips: You can carry on your own food inside Kishkinta Theme Park or enjoy food and beverages inside the food village. Lockers are available in the theme park and you can use them for storing your things. WiFi is also available in the theme park.
3. Vandalur Zoo
Vandalur Zoo or Arignar Anna Zoological Park in Chennai is the first public zoo in India that was open to the public in 1855. It is also the largest zoological park in India as it is spread across an area of over 602 hectares. This picnic spot near Chennai is especially enjoyable for small children who get to see different species of animals in the zoo. This zoo has separate sections for birds, mammals and reptiles of which it houses some rare species. Animal lovers especially enjoy the forest safari in the zoo, where you find the animals wandering freely while the visitors are in a cage, looking at them.
Distance from Chennai: 36 kilometres
Timings: 9:00 AM to 6:00 PM except on Tuesday.
Entry Fee: Adults: Rs30; Children (2-10 years): Rs10;
Tips: Summers, from April to July, are extremely hot so you can arrive at the zoo early and hire bicycles to explore the extensive zoo. External food is not allowed, however, there are many eating outlets inside the zoo. Keep yourself hydrated as you will spend at least 3 hours inside the zoo.
Best time to visit Vandalur Zoo: November to February is the best time to visit this zoo to avoid scorching heat.
4. Covelong Beach
Covelong Beach lies on the Coromandel Coast, layered in white sand and surrounded by palm trees. The location appears to be a reproduction from a postcard. Located in a small fishing village named Kovalam on the East Coast Road, Covelong Beach is one of the most beautiful and serene beaches in Chennai. After spending an afternoon at the beach with all your loved ones and favourite picnic items, you could walk along with the churches and forts that the area boasts of. Adventure sports, like windsurfing, are available here; the less adventurous can go for a swim.
Distance from Chennai: 40 kilometres
Best time to visit Covelong Beach: November to February is the best time to visit Covelong beach to enjoy the pleasant weather and the beautiful sea.
Tips: Covelong is famous for surfing and also has a surfing school nearby. You can go surfing if you love it or just go for a refreshing swim.
5. Mahabalipuram
A UNESCO World Heritage site, Mahabalipuram boasts of monuments from the 7th or 8th-century AD. If you ever tried carving a chalk piece into a particular shape, you would readily see why a place like Mahabalipuram is so fascinating and even awe-inspiring. Stone carvings of chariots, elephants and scenes from the Mahabharata are just some of the attractions here. Mahabalipuram also has monolithic and cave temples that can be dated back to the Pallava era.
Distance from Chennai: 52 kilometres
Best time to visit Mahabalipuram: The winter season from October to March is the best time to visit Mahabalipuram to truly enjoy its beauty and magnificence.
Tips: Even though Mahabalipuram will have a moderate climate in winters, it is essential to carry an umbrella, sunscreen and a mosquito repellant while travelling here.
6. Pulicat
Pulicat is also called as Pazhaverkadu and is located in the Thiruvallur district. This historic 600 hundred-year-old town is renowned for a fort, a Dutch cemetery, churches and lakes. But its claim to fame is the shallow saltwater lagoon, known as the Pulicat Lake. The lake is home to migratory birds like pelicans, flamingos and many other stunning and rare species of birds. You can indulge in many beach activities and other watersports here.
Distance from Chennai: 55 kilometres
Best time to visit Pulicat Lake: October to March is the best time to visit Pulicat Lake & Bird Sanctuary.
Timings: 6:00 AM to 6:00 PM
Entry Fee: None
7. Gudiyam Caves
Distance from Chennai: 60 kilometres
Best time to visit Gudiyam Caves: If you are planning on trekking, summer is the best time to visit Gudiyam Caves, albeit it will be extremely hot during this time.
Tips: Wear rugged shoes for trekking for better grip and balance. The area is quite desolate and hitching a ride back may be difficult, so be prepared.
8. Sadras
A piece of Commonwealth history, Sadras was once a port for the Dutch and would have been teeming with sailors and merchants, with cartons of tea and spices, the sound of exchanged silver and gold. Now a picnic spot, the fort and the beach are silent and peaceful and make a perfect location for relaxation. Apart from the age-old fort, Sadras is also famous for the Battle of Sadras (fought between British East India Company and the Dutch), a centre for weaving muslin cloth and exporting the same along with edible oil and Pearls.
Distance from Chennai: 70 kilometres
Timings of the fort: 9:00 AM to 5:30 PM all days
Entry Fee: None
Best time to visit Sadras: The onset of monsoons or winters is the best time to visit Sadras as you can enjoy the cool breeze and lush greenery around. It is better to visit in the evening during summers to protect yourself from the heat.
Tips: Carry an umbrella, sunscreen while visiting this place. Keep yourself hydrated to beat the heat.s
9. Vedanthangal
An absolute delight for bird-watchers and bird lovers, Vedanthangal Bird Sanctuary situated in the Chengalpattu district is a must-visit to catch a glimpse of some of the most exotic avifauna. This Bird Sanctuary, spread across an area of 30-hectares, has existed for over 200 years and is justly adjudged a paradise for bird watchers and other visitors who come here to look at the different species of migratory birds.
One can spot common sandpipers, blue-winged teal, pintail, garganey and other species of birds here. Make the best use of the weather conditions during the winter season to picnic at the sanctuary and enjoy your tryst with nature.
Distance from Chennai: 88 kilometres
Best time to visit Vedanthangal Bird Sanctuary: November to February
Timings: 6:00 AM to 6:00 PM
Entry Fee: Adults: Rs 25; Children: Rs 5;
Tips: Visit the sanctuary on weekdays to avoid the weekend crowd; Littering or harming the birds in any manner is strictly prohibited here, so be mindful to follow the same. If you want to know more about the sanctuary and the various bird species, hire a guide to explore the sanctuary.
10. Nelapattu Bird Sanctuary
Nelapattu Bird Sanctuary is situated in the Nellore district of Andhra Pradesh and a haunt of bird lovers. Many avid ornithologists camp at Nelapattu for a view of the pelicans which have made this place famous. This is their largest habitat in Southeast Asia. The sanctuary is also home to many other species of endangered birds.
Distance from Chennai: 90 kilometres
Timings: 9:00 AM to 5:00 Pm; closed on public holidays
Entry fee: Adults – Rs 2; Children – Re1; Foreigners – Rs 400; Camera – Rs50; Parking – Rs20;
Best time to visit Nelapattu Bird Sanctuary: October to March
Must Read: 10 Famous National Parks In and Around Chennai
11. Tada Waterfalls
Tada Waterfalls is one of the best places to visit near Chennai for the weekend. If you think picnic spots must offer scenic beauty, adventure and wildlife then you need to look no further than the Ubbalamadugu waterfalls at Tada. This popular tourist spot offers adventure sports and trekking as well as climbing to attract a number of visitors from Chennai. Many come here on weekends not just for a picnic as they like to camp here and stay over for longer. Watching the crystal clear waters of the cascading waterfalls is complete bliss and rejuvenating as well.
Distance from Chennai: 91 kilometres
Best time to visit Tada Waterfalls: The best time to visit Tada Waterfalls is August to December
Timings: All day long
Entry Fee: None
Tips: You can trek to the waterfalls to truly enjoy your trip. Make sure you wear comfortable shoes with good grip and do not enter the streams wearing your shoes. The trek is a little difficult, so take utmost care and precautions.
Must Read: 20 Majestic Waterfalls Near Chennai
12. Mudaliarkuppam Boat House
This scenic boating spot is a great place for a picnic as you can enjoy the panoramic views offered by the backwaters and sandbanks. You get to see many migratory birds in the brackish waters of this lagoon. It is also one of the best places to visit near Chennai within 100kms and you can cover it in one day. The beach is well-maintained and clean. Enjoy the serenity of the surroundings or go for a boat ride in this beautiful place, with the boathouses offering row-boating, pedal boating, speed boating and kayaking. This is very close to Chennai and offers a wonderful location for an idyllic picnic.
Distance from Chennai: 92 kilometres
Timings: 9:00 AM to 6:00 PM
Entry Fee for Boat Ride: 8-seater boats are available for a ride; For 30 minutes – Rs900 and for 120minutes/two hours – Rs1350;
Best time to visit Mudaliarkuppam Boat House: You can visit these places all year long, and maybe visit it in the evening during summers to protect yourself from the heat.
Places to visit near Chennai Within 200 kilometres
13. Vellore
Vellore often styled the Fort City of Tamil Nadu, is popular for the Vellore Fort and the Sri Lakshmi Golden Temple. A historically significant tourist attraction, Vellore Fort contains a temple and a State Government Museum of repute. It is one of the most fascinating places to visit near Chennai within 200kms. However, Vellore's Sri Lakshmi Golden Temple is a sight to behold, perhaps across India – the Temple is coated with a layer of pure gold. The Archaeological Survey of India Museum is another place to visit.
Distance from Chennai: 136 kilometres
Best time to visit Vellore: October to March
Tips: If you are planning a trip to Vellore, make sure you visit the Sripuram Golden Temple, Vellore Fort, Periyar Park and others.
Read more about 30 Amazingly Beautiful Places to Visit In Chennai Within 200 Kilometres
14. Pondicherry
Previously a French colony, Pondicherry is a major tourist attraction not just for Indians but also many Westerners, particularly from France. Sri Aurobindo Ashram and Auroville here form a major draw for most of these visitors.
Others enjoy the splendid churches, lovely beaches and the wonderful ambience of Pondicherry. Shop for aroma oils and incense sticks, artificial jewellery and haute couture; steal a deal at the factory seconds store of the locally-made Hidesign leather bags.
Distance from Chennai: 169 km
Best time to visit Pondicherry: October to March
Tips: Visit the Auroville Ashram for its serenity and tranquillity. Visit the beaches early in the morning or in the evening to enjoy the best sunrise and sunset respectively.
Book budget hotels in Pondicherry for a pleasant stay in this beautiful city.
You can also read about All 17 of the Hippiest Places to Visit in Chennai with Friends
15. Tirupati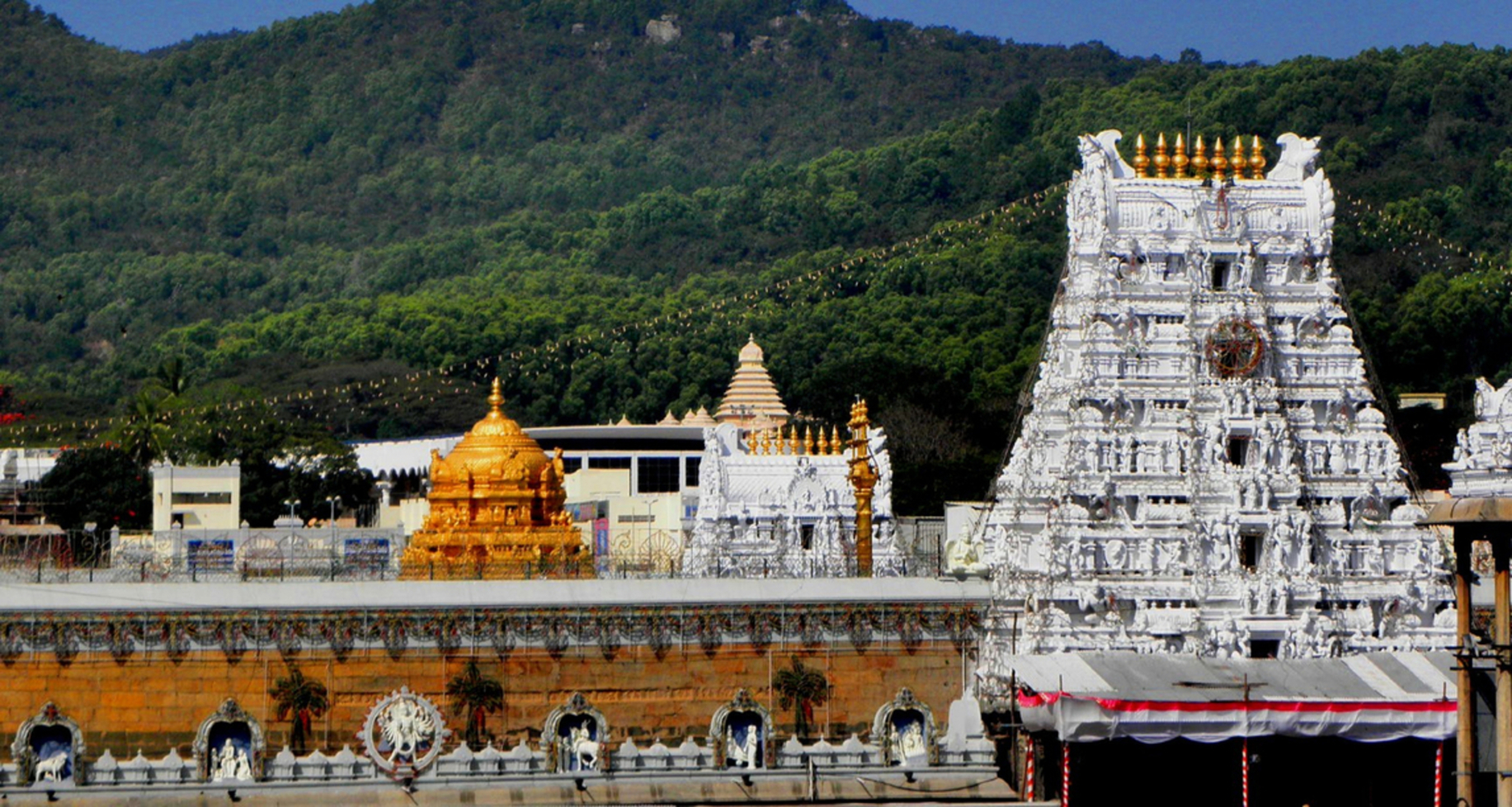 Tirupati is a city in the Chittoor district in Andhra Pradesh that houses the magnificent Sri Venkateswara Temple, an important Vaishnavite Hindu temple dedicated to Lord Venkateshwara. Lakhs of devotees flock here to get a glimpse of the deity and to soak in the divinity and charm of this temple. The temple is situated on top of one of the 7 peaks of the Tirumala Hills. If you are looking for places to visit near Chennai within 200kms, Tirupati can be an ideal choice.

Distance from Chennai: 133kms
Best time to visit Tirupati: September to February
Tips: The temple is crowded all year long, so be prepared for it. Plan a 2-day trip to Tirupati and book budget hotels in Tirupati for your stay as well, since darshan timings cannot be predicted and hugely dependent on the rush.
Book hotels in Tirupati with Treebo Hotels for a comfortable and pleasant stay.
16. Pichavaram Mangrove Forest
Pichavaram Mangrove forest located near Chidambaram is an ideal place for an outing with friends or family. You can plan a one-day or two-day trip from Chennai and cover Pichavaram as well as other famous places in Chidambaram such as the Nataraja Temple, Gangai Konda Cholapuram and more to make the most of your trip. You can enjoy a boat ride through the 1100 hectares of this mangrove forest witnessing breathtaking sceneries, long rows of dense mangrove trees and a variety of birds as well.

Distance from Chennai: 215kms
Best time to visit Pichavaram Mangrove Forest: November to February
Tips: Take sufficient cash with you as ATMs near this area are scarce.
Places to Visit Near Chennai: Within 300 Kilometres
15. Yelagiri
Go paragliding at this hill station, which boasts of lakes, waterfalls, lush green valleys and even a rose garden and an aquarium. Built in the year 1964, the hilltop temple of Lord Murugan offers amazing views.
Go boating on the artificial Punganur lake and or frisk around in the Jalagamparai waterfalls. Go trekking and meet the tribals who live in the area to learn about their lifestyle. Yelagiri indeed is one of the best places to visit near Chennai within 300kms
Distance from Chennai: 229 kilometres
Best time to visit Yelagiri: November to March
Tips: Yelagiri provides ample opportunities for some fun activities like trekking, mountain climbing, paragliding, so do not miss out on them!
Read more about 15 Amazing Places to Visit Within 300 Kilometres of Chennai
As time passes, one finds happiness from memories and experiences, especially those formed within the company of that one loves. Somehow, short trips offer a great amount of each. If passing by Chennai, or living there, do try to find some time from a tight schedule to relax and be peaceful, a nice trip to a beautiful picnic spot being a great vehicle for both.
Frequently Asked Questions?
1 What are the top places to visit near Chennai Airport?
Some of the places that you can visit near the Chennai airport include Valluvar Kottam, Marina Beach, MGR Memorial, Guindy National Park, Phoenix Marketcity Mall, Palladium Mall and more.
2 What are the best places to visit near Chennai for a one day trip?
You can visit Kanchipuram, Vellore, Dakshinachitra, Vedanthangal, Arignar Anna Zoological Park, Covelong for a one-day trip near Chennai.
3 What are the places that one can visit near Chennai during summer?
Summers in Chennai are extremely hot and humid. You can visit a number of hill stations such as Yelagiri, Yercaud, Ooty, Kodaikanal, Megamalai, Kolli Hills, Valparai and others to escape the hot climate and unwind with nature.
4 Which are the top places to visit near Chennai on weekends?
You can easily plan a 2-day trip near Chennai to a number of places such as Mahabalipuram, Nellore, Auroville, Tranquebar, Kabini Wildlife Sanctuary, Mudumalai Wildlife Sanctuary.
5 Can we visit any places in and around Chennai with friends?
You can go to the Elliot's Beach, Semmozhi Poonga, VGP Golden Beach, Kishkinta Theme Park, Dakshinachitra, Muttukadu Lake, Guindy National Park, Pondicherry and other with friends and enjoy your day together.