If you're visiting the historic city of Udaipur for two days, you just might have enough time to sightsee all its highest-rated attractions and enjoy a little bit of souvenir shopping.
What you need is a curated itinerary that covers top sights, places to eat and certain offbeat gems. We have just the guide for you. Read on.
Places To Visit In Udaipur In Two Days: A 2-day Trip Itinerary
Day 1
Settle into your hotel room upon arriving. Book a stay in lakefront areas such as Lake Pichola, Fateh Sagar or old city in Chand Pole, Gangaur Ghat for convenient travelling. Honeymooning couples like staying at Taj Lake Palace or at one of Udaipur's heritage hotels.
Book Budget Hotels in Udaipur
1. Breakfast at Jheel's
A rooftop view cafe, Jheel's Ginger Coffee Bar & Bakery is a great place to have breakfast.
Order coffee, tea, sandwiches or any veg fare at a reasonable price. Paneer Tikka Sandwich is famous at the cafe. It's a veg-only cafe.
Location: Gangaur Ghat Road
Average price: Rs 350 for two
Suggested to Read : 12 Awesome Picnic Spots In Udaipur
2. Jagdish Temple
At a walking distance from the cafe, let Jagdish Temple be your first stop. A huge Indo-Aryan style temple, the peaceful morning vibe enhanced by breathtaking wall and pillar carvings will get your spirits high.
Numerous ornate shrines, ceiling art and the garuda statue are temple highlights. Photography inside the temple is not allowed.
Suggested to Read : 13 Spectacular Places to Visit in Udaipur at Night
3. City Palace
You'll need to spend at least two hours here to fully enjoy the beauty of the palace and the museum displays.
Explore Sheesh Mahal, Bhim Vilas, Badi Mahal and Mor Chowk. Marvel at the royal courtyards, jharokhas, kitchens, ornate rooms and the beautiful Zenana Mahal and Amar Vilas. Photography is allowed for a fee.'
Also Read : 16 Best Places To See In Udaipur In One Day
4. Shilpgram
Head to the artisan village of Shilpgram which displays the tribal lifestyles of the natives of Western India, inside authentic huts. There are many handicraft items here that will stir the shopper in you.
The rural art and craft complex is a must visit for a traditional village experience, camel ride and souvenir shopping.
Suggested to Read : 14 Best Places To Visit Near Udaipur
5. Lunch at Traditional Khana
Your trip to Udaipur would be incomplete if you didn't indulge in mouth-watering Rajasthani cuisine. Traditional Khana has a palace like ambience and serves the most delicious and complete Rajasthani Thali to die for.
Location: Panchwati
Average Price: Rs. 1000 for two
Also Read : The Top 18 Things To Do In Udaipur For A Complete Visit
6. Street shopping at Hathi Pol
The siren song of Hathi Pole is irresistible to a shopper. The best bazaar in Udaipur for street shopping has colourful shops lined up, selling juttis, kurtis, bandhani, handicrafts, spices, souvenirs, tribal jewellery, sarees, fabrics, and outstanding traditional wear. Shop at day time for best bargains and to avoid the evening rush.
Also Read : The Best Street Foods In Udaipur & Where To Eat
7. Bhartiya Lok Kala Mandal
A ten minute walk from the restaurant will take you to the most amazing cultural experience in Rajasthan. Bharatiya Lok Kala Mandal Museum displays masks, pots, paintings and wall art.
But at 6 pm the real treat begins in its halls- the most enjoyable puppet show you've ever seen. A true Rajasthani cultural gem.
Also check the Hotels in Chandpole Udaipur
8. Dharohar Dance Show at Bagore Ki Haveli
Starting at 7 pm, witness the captivating folk dance performance in the authentic ambience of a historic haveli.
Sitting atop comfortable gaddas, balconies and across haveli steps, visitors are mesmerised for an hour by an evening of folk dance histrionics by artists in colourful attires. Do not miss this magical experience.
Location: Bagore Ki Haveli, Gangaur Ghat
Also Read : The 12 Best Shopping Places in Udaipur
9. Dinner at Upre by 1559 A.D.
After a day of hectic sightseeing and shopping, unwind at a swanky yet traditional, rooftop lake view restaurant with a bar. Upre serves delectable north Indian, Rajasthani and mughlai dishes to quench your meat cravings along with hard liquor and cocktails.
The night view at the roof includes shimmering lake waters and a skyline of heritage ghats.
Location: Outside Chand Pole
Average price: Rs.1500 for two (with alcohol)
Also check the couple friendly hotels in udaipur
Day 2
We recommend you have an early breakfast at your hotel or a local cafe nearby for day as you would be heading on a short road trip to historic Udaipur temples located on the outskirts of the city about half an hour away from the city centre.
10. Eklingji & Saas Bahu Temples
The trip back and forth including the time to explore the temples would be around 3 hours. But these are essential sights not to be missed while in Udaipur.
Eklingji Temple is an ancient temple dedicated to Mewar's ruling deity, and Sahasra Bahu Temple is renowned for its exquisite carvings, pillars and architecture.
Location: Near Nagoda Village
Also Read : 30 Beautiful Places To Visit in Udaipur
Also check the Hotels near Mahakaleshwar Temple Udaipur
11. Ahar Museum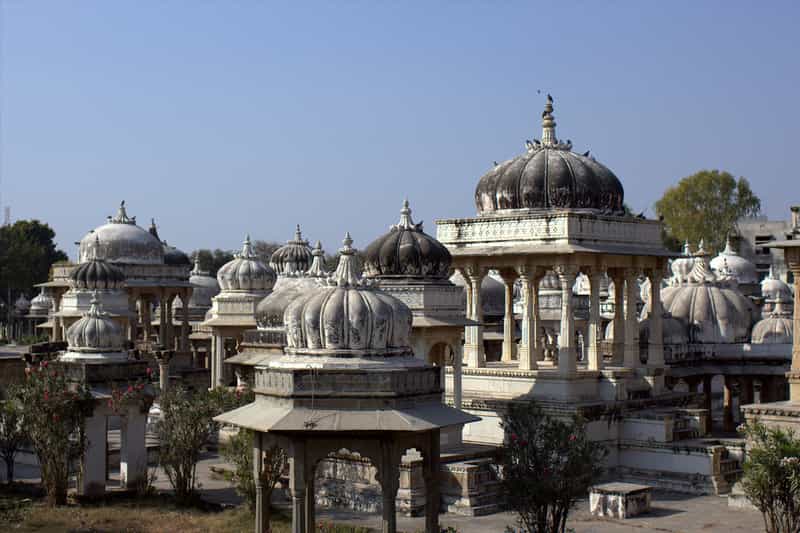 Royal cenotaphs of Mewar are displayed at the archeological Ahar Museum, a sight to explore to understand Rajasthan's history.
The museum has a rare collection of old pottery and sculptures, and many excavated items from the ancient Indian era are also on display, such as trenches, fireplaces, stone and copper, iron artifacts.
Also check the Hotels near Subhash Nagar Udaipur
12. Lunch at Natraj
Around 5 kms away from Ahar Museum, have lunch at Udaipur's most famous eatery. At Natraj Dining Hall, eat the most authentic Rajasthani and Gujarati dishes like dal bati, khandvi, full-fledged unlimited thali laden with mouth-watering traditional food and dessert. Lunch time is till 3.30 pm.
Location: City Station Road
Average Price: Rs. 500 for two
Also check the Hotels near Suraj Pole Market Udaipur
13. Sajjangarh Palace (Monsoon Palace)
The famous monsoon palace of an erstwhile king, Sajjangarh Palace is a must visit for its spectacular panoramic views of Udaipur and hilltop locale. The white palace has magnificent architecture with big rooms, courtyards, gardens and terraces.
If you prefer, you can stroll around and catch the best sunset in Udaipur from the palace premises or you can head to a different destination to enjoy the sunset (coming right up).
Also check the Hotels near Chunda Palace Udaipur
14. Sunset boat ride on Lake Pichola
Take a boat ride on Lake Pichola to enjoy the sunset while watching the illuminated palaces and buildings surrounding the lakes.
You can opt for a public boat ride for about 30 minutes or longer if it stops at Jag Mandir Palace. Otherwise for Rs. 4000, hire a private boat where it's just you and your golden solitude with only the lake views to give you company.
15. Ropeway to Karni Mata Temple
For splendid views of Udaipur attractions at night, including Fateh Sagar Lake, Pichola, City Palace and Aravalli mountains take a ropeway to Karni Mata Temple. You will not be disappointed.
Visit after the sunset boat ride so you can enjoy even more luminescent night views during the ropeway ride. Rides close at 9 pm.
16. Dinner at Raas Leela
A boutique restaurant overlooking the lake, Raas Leela is the perfect way to relax at the end of a tiring day.
The restaurant has cozy, romantic ambience and a wide range of cuisines including North Indian, Chinese, Continental and Rajasthani, but it does not have a bar. Outdoor seating is available.
Location: Soni Ji Ki Bari, Pichola
Average Price: Rs. 750 for two
Book Treebo hotels in udaipur and get 100% guaranteed quality stay.
Your perfect itinerary for a trip to Udaipur is fully armed to surprise you with multiple spectacles, a generous dose of history and an unforgettable trip to a dream city.
Drop comments and questions below.