Lush greenery, snow-capped mountains, multi-coloured pastures, crystalline lakes and incredible trekking trails are some of the reasons why tourists' from all over the country and from around the world flock to Nainital. While Nainital wears a special charm during the winters, it is generally open for a visit all through the year. And that is when you can do some interesting street shopping in Nainital and discover some shopping places in Nainital.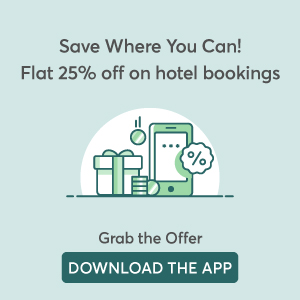 But, what about the ones who do not want to trek, hike, and jump? Do you think the options are limited for you? Well, think again because some of the best shopping places in Nainital offer great experiences. Not because you'll find branded stores selling clothes, shoes and bags, but because you have an abundance of organic stores and shopping markets in Nainital selling locally produced food, handmade soaps and candles, beautiful glass pieces and the most amazing homemade food-jarred and ready to be bought and parcelled.
Read more because we have curated the perfect list of shopping places in Nainital and discover some of the best shopping places in Nainital and things you can shop for in the shopping markets in Nainital.
Here's a List of our Favourites!
1. Collect Candles from Mall Road
While it may sound extremely absurd, candles from Nainital are super popular for the basic reason that natural wax is available in plenty because of the flora and fauna and during peak winter, candles are lit inside houses over lights to echo warmth and radiance. The best place for shopping in Nainital for candles is The Mall Road. The Mall Road in Nainital is closed to heavy traffic, especially during heavy tourist season so that people can just stroll along carelessly while they wander in and out of the shops.
The whole commercial street, a place for street shopping in Nainital, is filled with tiny little shops selling the most intricately hand designed and modelled candles that come in all shapes and sizes. If you ever thought that you couldn't spend all your savings on candles, the shops in the Mall Road will make sure you change your mind!
2. Shop in the Tibetan Market
The Tibetan Market in Nainital is unlike anything that you've previously seen for the simple fact that it doesn't sell western clothes and accessories like the ones you've seen in the city. The best part about your expedition to this shopping place in Nainital or say shopping market in Nainital is that you'll find home-grown Tibetan objects of use in the most stunning colours and patterns. You won't burn a hole in your pocket shopping here- from the thickest and the most vibrant shawls to the handcrafted Tibetan prayer wheels, to amazing Tibetan folk jewellery to the endless stretch of carts and tiny restaurants selling hot cups of soupy noodles and hot chocolate, you can have the experience of a lifetime in one of the best shopping markets in Nainital and it will leave you stunned and happy!
3. The Mall Road Shopping Center
Stretched along the Naini river, The Mall Road that has now been officially renamed the Govind Ballabh Pant Marg is the commercial capital of the city. And it is regarded as one of thebest shopping places in Nainital. Street shopping in Nainital and in this area particularly, takes on a new connotation. The ever bustling stretch of shops presents tourists' with perfect hubs to sit around and chill without missing a sight of the lake at any point. Most shops on the Mall Road sell homemade organic things ranging from candles to squashes and preserves, and sauces and shawls. This is one of the best shopping places in Nainital where there's something for everyone and you'll find some of the most marvellous things in the quaintest of shops out here!
4. Bhotia Market
Bhotia Market is an extension of the Tibetan market that also offers easy access from the Mall Road near Naini Lake. While we have mentioned Tibetan markets before in the article, we have kept aside a special mention of Bhotia Market, for the sole reason that the charm of this shopping market in Nainital lies in the many folds of beautifully hand-woven woollens. This is one of the best shopping places in Nainital and the place where all your cosy dreams will come true because it's all thick, colourful, vibrant, and beautiful wool sold at throwaway prices. Now who wouldn't like that? Take your pick from the many shawls to the sweaters or woollen caps, gloves and socks or buy it all!
5. Bara Bazaar
Saving the best shopping place in Nainital for the last is always a good option and so, we finally have Bara Bazaar that has the distinction of being the oldest and most heavily visited shopping place in Nainital. It is nestled quaintly between the giant mountains. What makes it a famous shopping market in Nainital is not just the age of the market, but what it sells. Given that this market has stood still against the test of time, it offers you a range of products that are not touristy and commercial.
Shopkeepers are warm and welcoming so don't be surprised if you are randomly offered a bread stick dipped in sweet sticky syrups. The products that they sell here somehow lack the monotony that prevails in most touristy markets given everything has a fresh and authentic feel to it.
Whatever experience you seek in the world of shopping, be it street shopping in Nainital, or exploring the shopping markets in Nainital, or finding out the best shopping places in Nainital, you can find all of this and more here!